We all need a bit of a break from the hustle and bustle of our daily lives, with seaside holidays being ideal for some relaxation and rest. If you live in or close to Miami and wish to get away from the country, consider visiting The Bahamas for a beautiful and vibrant experience.
Even if you intend to move to The Bahamas, you will still need to figure out a solid way to travel.
Now, this might sound excessive, especially if you just want to take a day or weekend trip from Miami. Are The Bahamas actually a realistic idea in such a case? You might be glad to hear that they are, in fact, a great idea given that they are only around 180 miles away from Miami.
This means that you have a range of options to work with, with air and water being the most popular means to make your way from Miami to The Bahamas. If this sounds exciting enough to you, hop on and cruise through this post to figure out the best way in which you can travel.
Getting from Miami to The Bahamas
Getting from Miami to The Bahamas is possible in a number of ways. You can sail on the water using a ferry, cruise or boat or you can simply book a flight and land in one of the cities of The Bahamas in almost no time.
Depending on what you prefer, make your choice by finding out more about each of the ways in which you can travel. Take a look.
Miami to Bahamas Ferry
Taking a ferry from Miami to The Bahamas is one of the best and most convenient ways to travel, especially if traveling by water through a scenic route appeals to you. Of course, you will need to share the ferry with multiple other travelers, so make sure you make arrangements accordingly.
Ferries usually operate from Port Everglades in Fort Lauderdale and not directly from Miami, so be prepared to drive or take a train to Fort Lauderdale first. From this point, you can hop on to the ferry and get to Bimini in two hours or to Freeport in 2.5-3 hours, depending on which ferry service you opt for.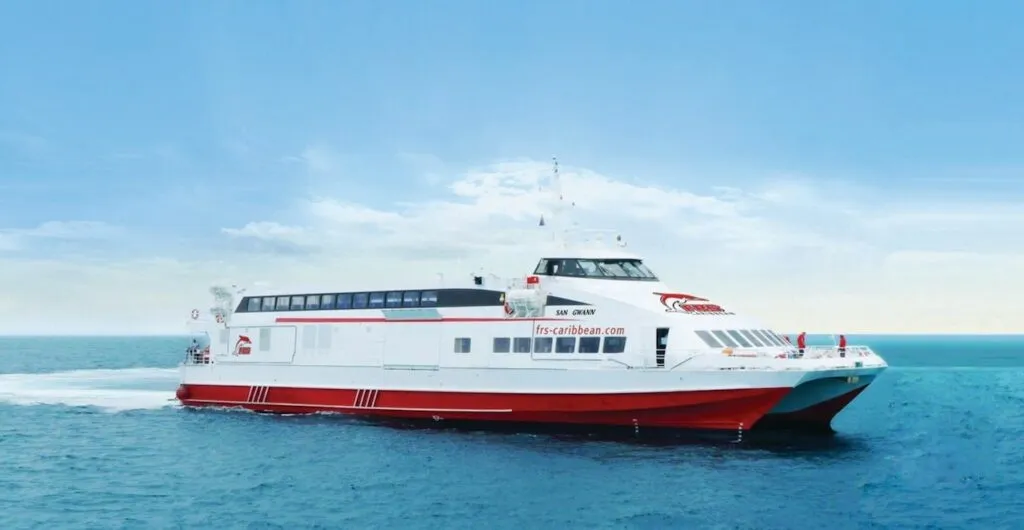 Generally speaking, the cost of traveling on a ferry from Port Everglades to Bimini costs around $100 per person, with a return trip costing roughly $200. Make sure you book your spot in advance and reach on time with all your relevant documents in place.
Note that there might be differences in the time and cost based on the season in which you intend to travel.
If you wish to travel to Nassau, you might have to fly from Bimini instead of taking a direct ferry. You can consider some other options in such a case too.
Miami to Bahamas Cruise
A cruise is a lovely way to sail along the waters and enjoy the sights that come your way. Cruises also solve the problem of finding a hotel for the night given that many of them offer accommodation. If this interests you, you will need to ensure that you have enough budget and luggage to last you for at least a weekend.
How long it takes to sail from Miami to The Bahamas depends on the route you take and the destination you choose. Miami to Nassau will take you 2.5-3 hours, although you will also need to account for the extra hours that you spend hopping from one island or destination to another.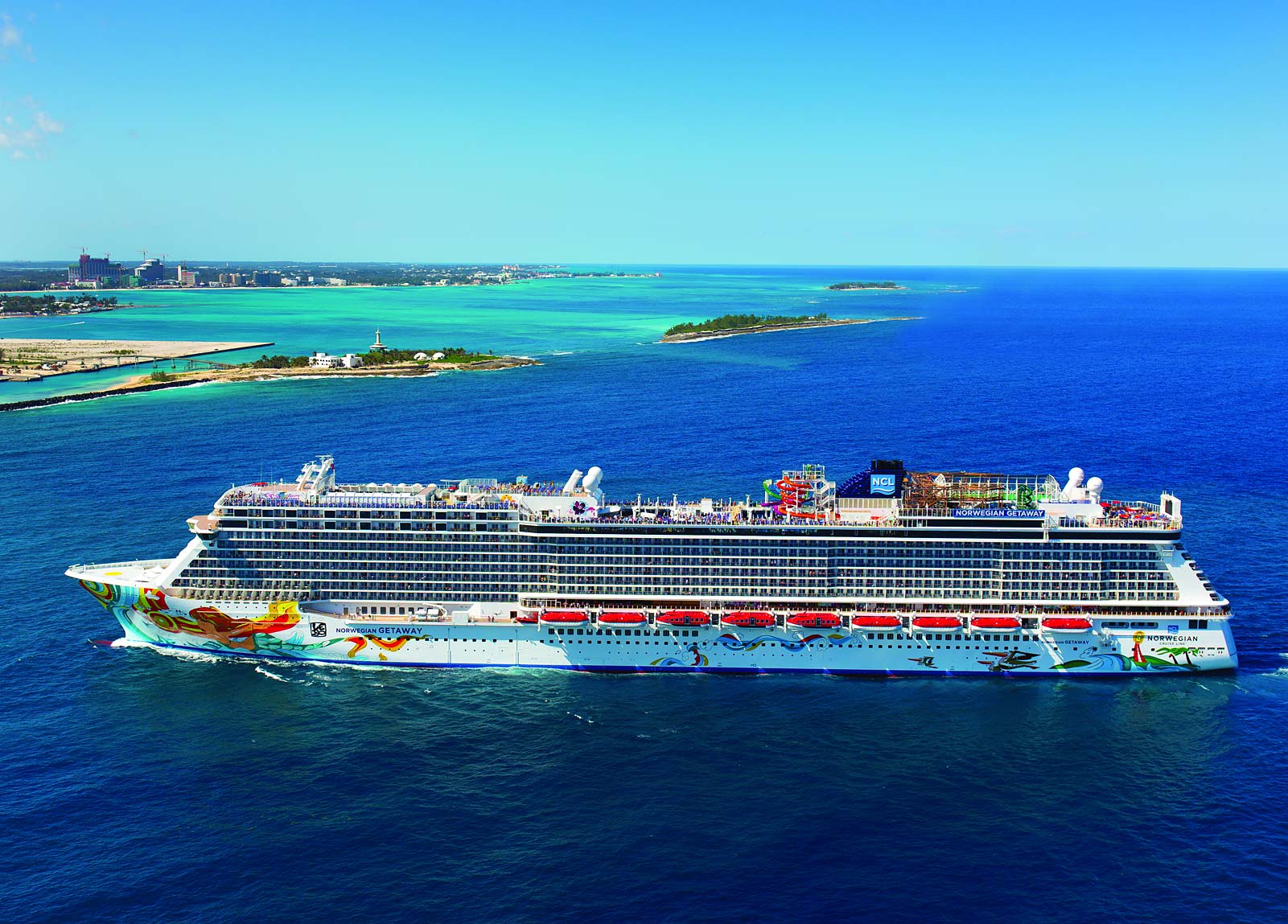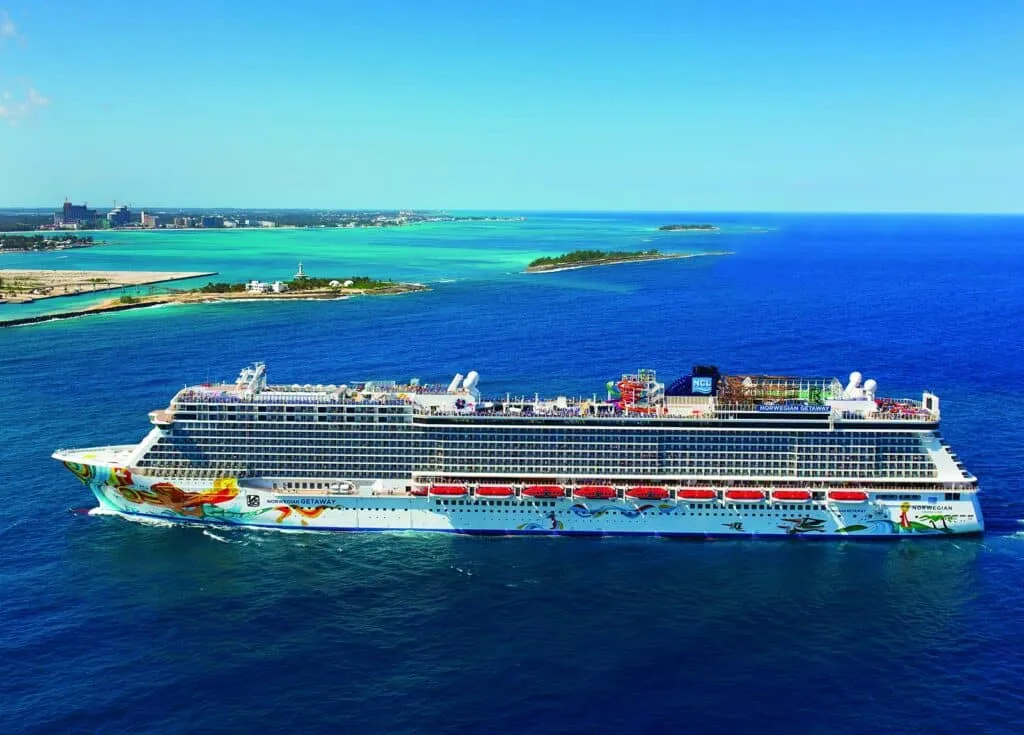 Various cruise lines and companies tend to operate from Miami, taking you either to Nassau or Bimini (sometimes even Freeport). If you want to avoid an entire week of traveling on the cruise, you can simply consider limiting your destination to one city and spending the day and evening exploring it fully.
Many cruise ships also take you to some of the lesser-known and quieter islands, so if this sounds more like your kind of holiday, do a bit of research and choose a liner accordingly.
Cruises usually cost around $115-$120 per night (and per person) and tend to include a host of facilities like rooms, bars, food, pools, events and more.
Miami to Bahamas Boat
How long is a boat ride from Miami to The Bahamas? If you are adept enough at driving a boat and also happen to own one, what better idea than to set sail and have a hassle-free and private trip with just you and your loved ones?
Expect a journey of a couple of hours or so from Miami to Bimini and more if you wish to travel to Freeport or Nassau. This is, of course, possible only if you have an engine-powered boat. If you opt for a slower boat, it might take you up to ten hours to make the journey, with sailboats possibly taking days.
However, if this sounds good enough to you, go ahead! This is also quite a cheap solution since you will be on your own boat.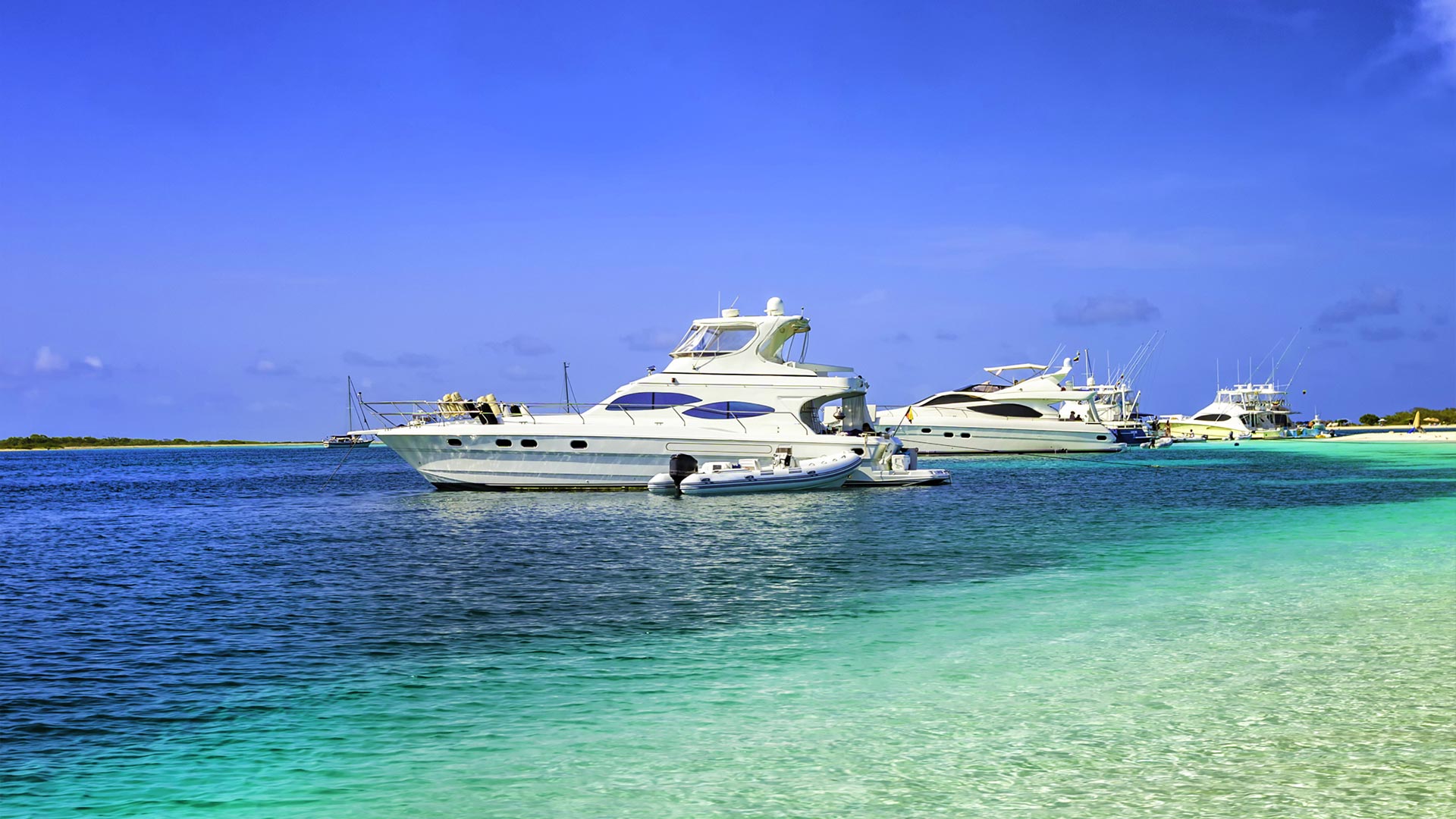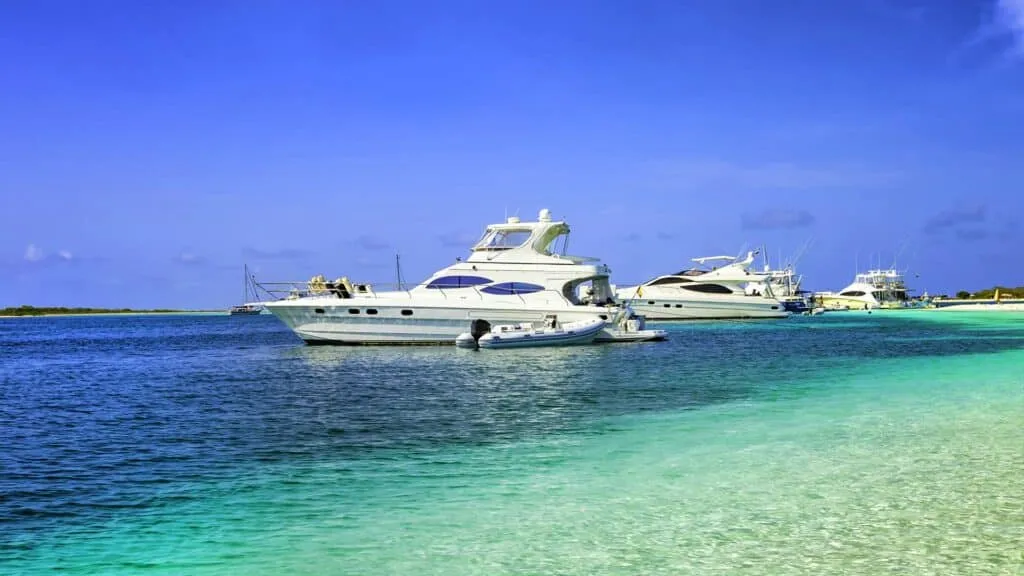 You can also choose to charter a boat from the port and from a reliable company, although this might add thousands of dollars to your trip. This is not really worth it if you only wish to spend a short period of time in The Bahamas unless the journey is more important to you.
If you do not have experience driving or sailing a boat, hire a professional or simply choose another option.
Miami to Bahamas Flight
Several flights to The Bahamas from Miami are available if a quick and effortless journey is the kind of vibe you are going for. These flights usually take only 45-60 minutes to cover, making them extremely effective ways of traveling, especially if you want to spend as much time as possible on the islands in The Bahamas.
However, do note that you will need to spend an hour or more at the airport itself to get through all the formalities and procedures, so ultimately there might not be too much of a difference in the time you spend.
You can land in various parts of The Bahamas, with the most popular landing spot being Nassau. You will also find more flight options if you choose to travel to Nassau.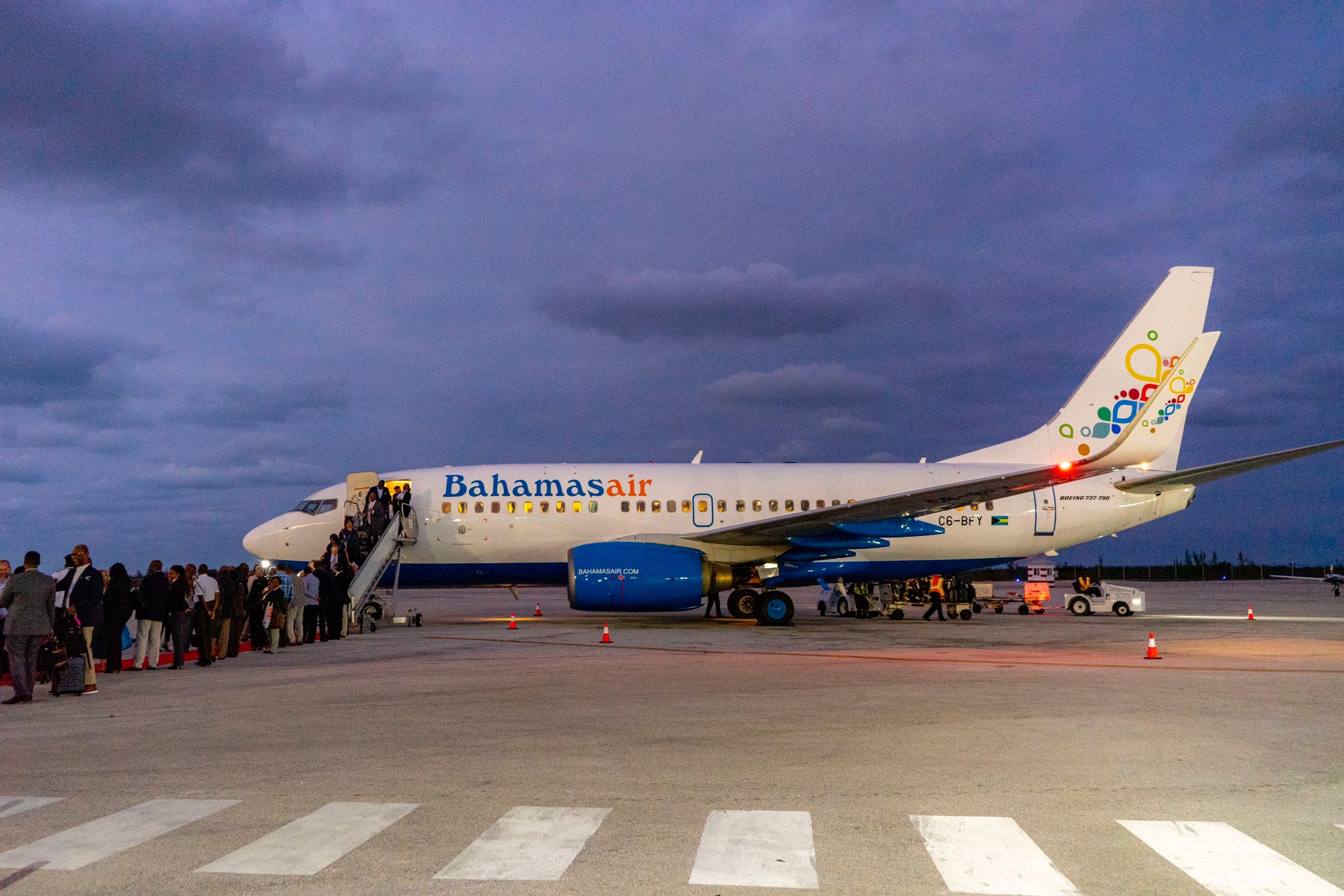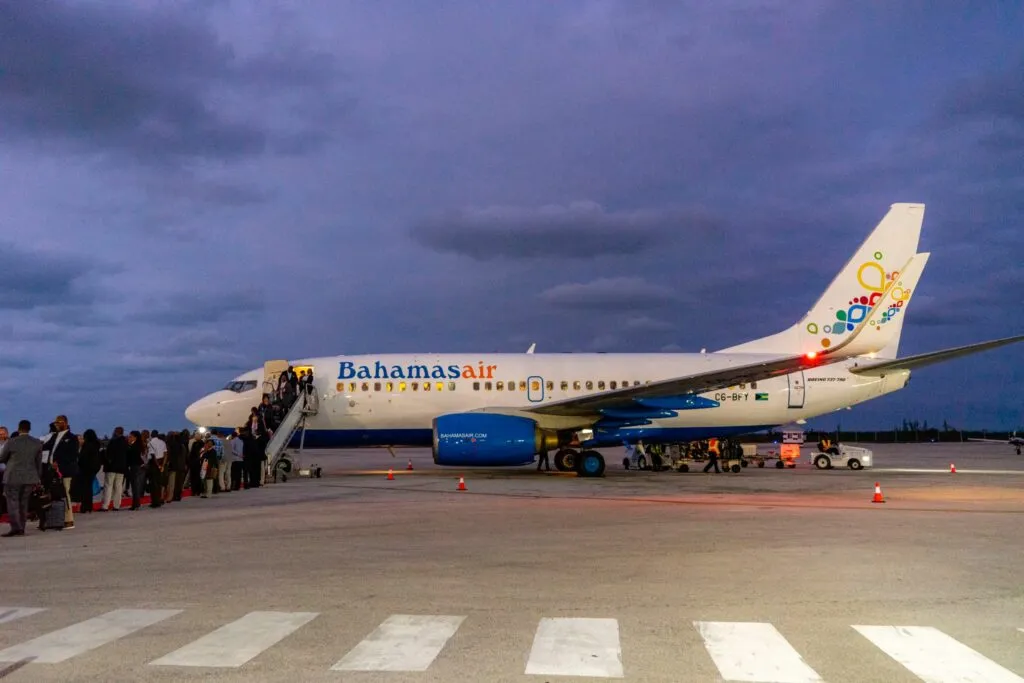 You might also be able to find various flights that provide offers and packages that can give you access to more isolated islands in the country.
Flights typically cost around $75-$150 per person for a one-way journey, with return trips costing a total of up to $300.
How Long Does It Take to Jet Ski from Miami to The Bahamas?
Interestingly enough, it is possible for you to travel from Miami to The Bahamas using a jet ski. For adventure lovers, this might sound extremely intriguing and fun, but make sure you prepare yourself enough for the ride.
The first thing you should do is figure out where to start and where to stop. The best solution is to make your way from Miami to Bimini in The Bahamas, with the journey only taking you 1.5 hours to complete.
For a longer route, you can consider traveling from Fort Lauderdale to either Freeport or Bimini, both of which will take you a long time.
Make sure you also feel comfortable enough jet skiing and have enough experience to cover such a distance. Additionally, carry your US passport, get all the relevant permits and ensure that your jet ski (personal or rented) has enough fuel in it to take you to your destination.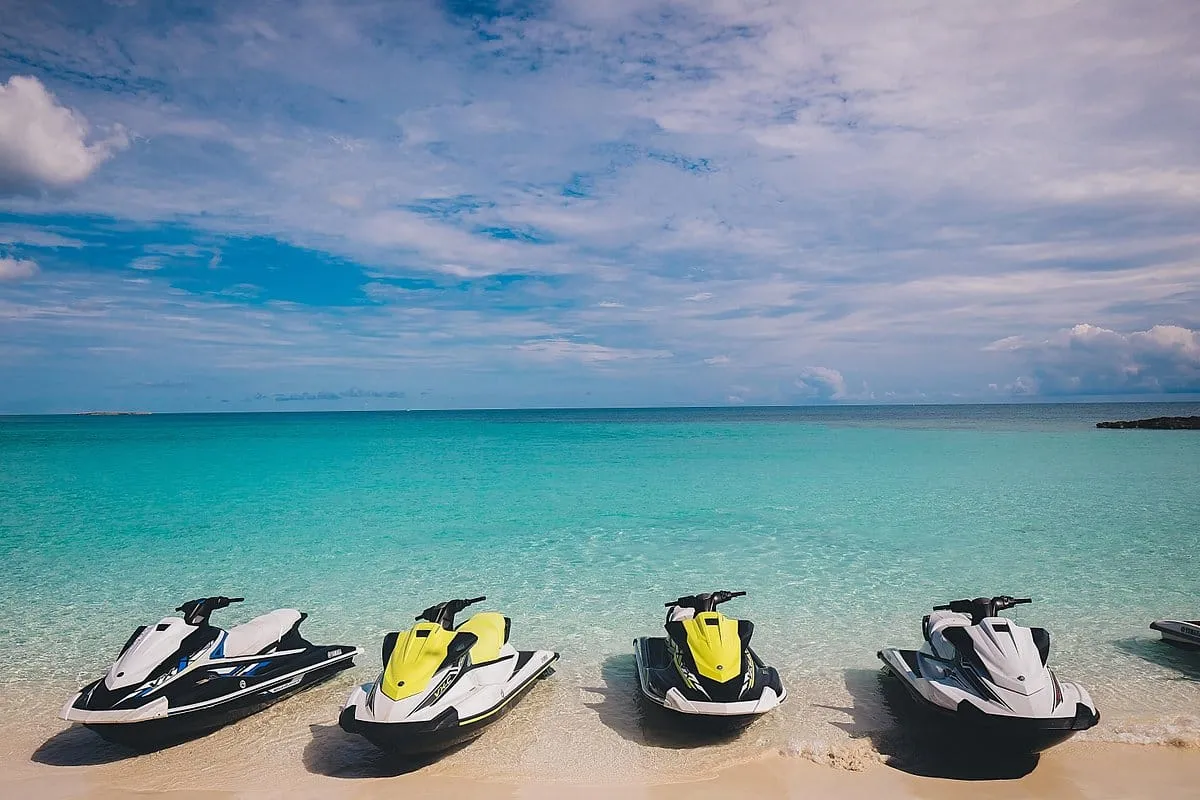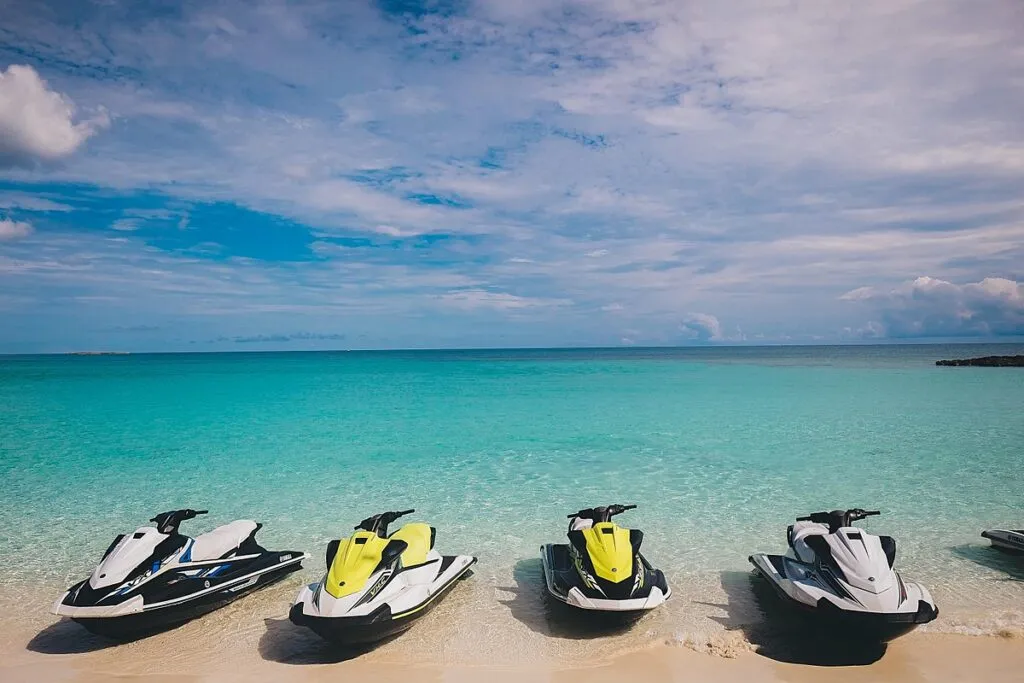 Can You Drive to The Bahamas from Miami?
Unfortunately, driving from Miami to The Bahamas is simply not possible. There is no road or route in place using which you can drive your car to The Bahamas. Water divides The Bahamas from Miami, so the only thing you can do is travel by air or water.
If you wish to take your car along, however, you can do this by booking a ferry that allows for this kind of service, although this is likely to cost you a lot more, so remember to budget for it accordingly.
What You Should Account For
To make your choice when it comes to the mode of travel, keep the following elements in mind so that you and your family are as comfortable as possible throughout the journey.
Cost: The cost of traveling varies according to the mode of travel, with cruises being the most expensive. Apart from the cost of traveling, you will also need to account for the cost of accommodation, food, shopping and other experiences.
Travel Time: Flights have the shortest travel time, taking only around an hour to get you to The Bahamas from Miami. Ferries are quick too, with cruises taking a bit longer and boats taking the longest.
Trip Duration: Make sure you consider the duration of your actual trip too. If you only want to stay for a day or two, it is better to opt for a ferry or flight to manage the time. Cruises and boats make more sense for longer stays in The Bahamas.
Luggage: Consider the amount of luggage you have. This should not be much of an issue if you are traveling for a few days, but longer stays or shifts might require more luggage allowance, making flights a better choice.
Number of People: Some ferries and cruises might have separate offers and packages in place for group bookings, so make sure you check those out as viable options for travel.
Destination: Not all means of travel will take you to the destination you wish to go to. If you intend to stay or live in The Bahamas, choose a travel mode that can take you as close as possible to your final destination.
Weather: If you intend to travel by water, check the weather forecast to ensure that you are good to go. You should do this for flights too. Weather can also relate to the season, which can then affect the costs.
Documentation: Take your passport regardless of the mode of travel. Permits, booking details, identity documents, money arrangements and other relevant papers based on your individual context are important too.
The Bottom Line
Traveling from Miami to The Bahamas is possible through flights, cruises, boats or ferries.
Which travel mode you choose can depend on the cost, travel time, trip duration, luggage, destination and more, so make sure you account for all your preferences and limitations before making the trip.
Also keep in mind that visiting by air means you need a passport to enter The Bahamas, while by water you have some additional options.