In an island nation with over 700 gorgeous islands, picking out the best beach is like picking out the best peanut butter cup from a box of Reese's peanut butter cups. Exactly, right?
Just when you think you've found the most gorgeous beach in The Bahamas, the next equally gorgeous one that you visit makes you rethink your decision!
Each beach in this leading Caribbean beach destination is blessed with soft sands and calming blue waters creating a beautifully striking contrast, making it a Herculean task to rank one above the other.
However, you might find some beaches to be a better idea than others because of the available amenities, convenient location, and how busy they are.
After spending many sleepless nights debating, revising, and rethinking, I'm glad to say that I've finally managed to come up with a list of the 14 best beaches in The Bahamas (in no particular order, of course—I don't think anyone has it in them!).
Whether you're looking for secluded beaches, watersports, family-friendly spots, or a beach that lets spring breakers get their freak on, this list has you covered.
Tropic of Cancer Beach
A mere 9 minutes away from William's Town and 20 minutes away from Great Exuma, this secluded, gorgeous strip of sand, named after the latitude that passes through it and also known as Pelican Beach, is the pearl to Little Exuma's oyster.
Quiet, uncrowded, and serene, this beach is one of the Exumas' most well-kept secrets and probably its prettiest—perfect for those who want to get away from the (sometimes annoying) bustle of busier beaches.
Like any of the beaches on the 300-odd islands that make up the Exumas (or The Bahamas, really), the Tropic of Cancer beach, Little Exuma's longest, gives you clear, turquoise waters, breathtaking landscapes, and pristine white-powder sands.
However, unlike the country's mainstream beaches, you won't find any amenities at the Tropic of Cancer beach—make sure you pack whatever you need.
You can swim and boat in this iconic beach's waters, take photos on the short stairway that leads to the sand (where, incidentally, the first movie in the Pirates of the Caribbean franchise was filmed), or simply revel in the peace and privacy that the attractive beach affords.
Pink Sands Beach
Pink Sands Beach is exactly what it sounds like—a graceful crescent of gorgeous pink sand, one of Eleuthera's many. The magical color is a result of the crushed seashells that make up the sand.
With so many beautiful pink-sand beaches in the area, Pink Sands may not be the obvious winner of the "best beach in town" title, but it's definitely the most popular, owing to its location on the luxurious Harbour Island.
The picturesque three-mile length of the beach is peppered with oceanside restaurants, boutique resorts, vacation rental homes, snack shops, and honeymooners.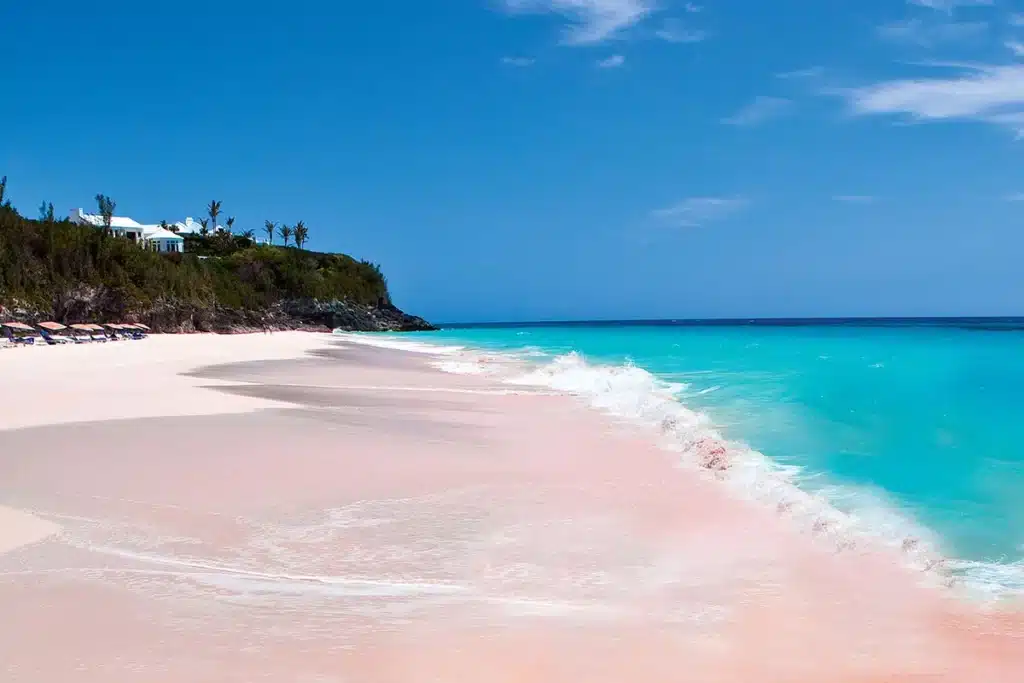 Pink Sands is especially popular during low tide, when the sand is level and firm and allows leisurely strolling, horseback riding, and biking (many of the establishments on the beach offer bikes for rent, though some, like the resorts, may only offer it to guests).
Pro-tip—Pink Sands is teeming with tourists from November to March as these months mark the season in Harbour Island. Plan a visit during some other time or head to a more secluded spot if you'd rather not encounter thronging crowds.
Surfer's Beach
Eleuthera's Surfer's Beach usually comes alive during the months between September and February, when the trade winds' increased gusts turn up the surf action and turn the beach into a surfers' hub. (Because of the high surf action, regular beach activities such as diving and snorkeling are only recommended in the protected coves that dot the beach's northern end.)
Surfer's Beach sits about two miles to the south of Gregory Town, and while it's no Hawaii or California, this stretch of white-powder sand can nevertheless offer ideal surfing conditions on the North Atlantic Ocean waves that lap its shore.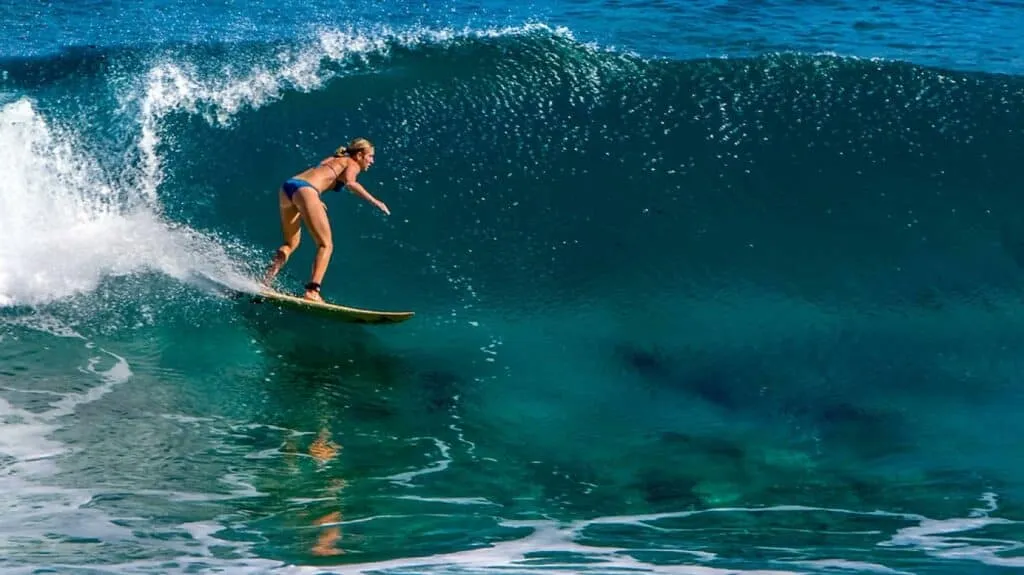 Fortune Beach
This jewel in Grand Bahama's crown may not shine as brightly as the other beaches in the country, but that doesn't make it any less of a prize.
This quiet strip of white sand sits in Freeport and gets its name from a shipwreck—a ship carrying millions of dollars was wrecked near this beach, giving it its name.
Fortune Beach's biggest draw (apart from the fact that it's one of the best beaches in Freeport, Bahamas, of course) is that during low tide, the water recedes enough to transform the beach into a shallow sand bar for a short while, turning it into a private island—you can live the dream for a little while!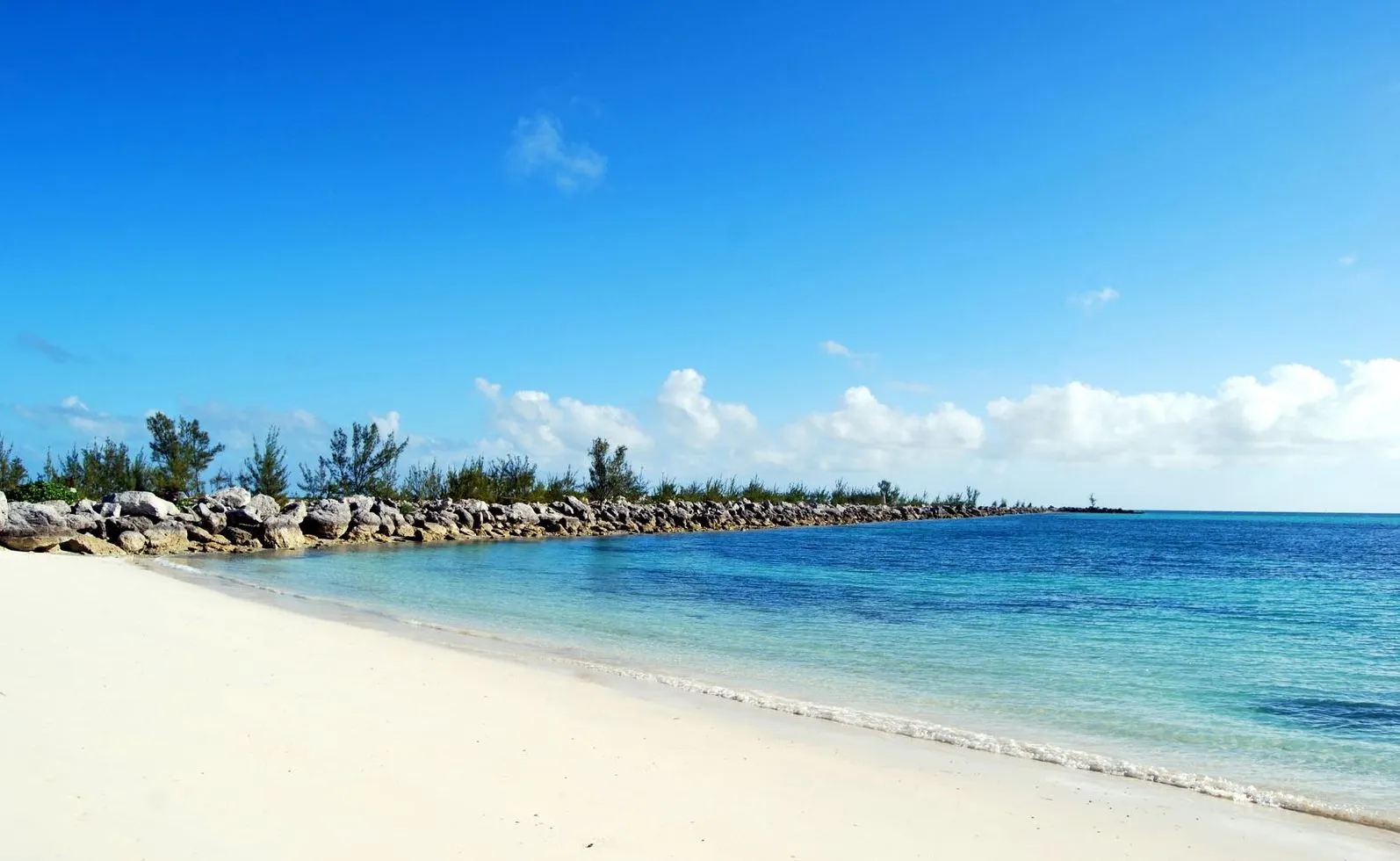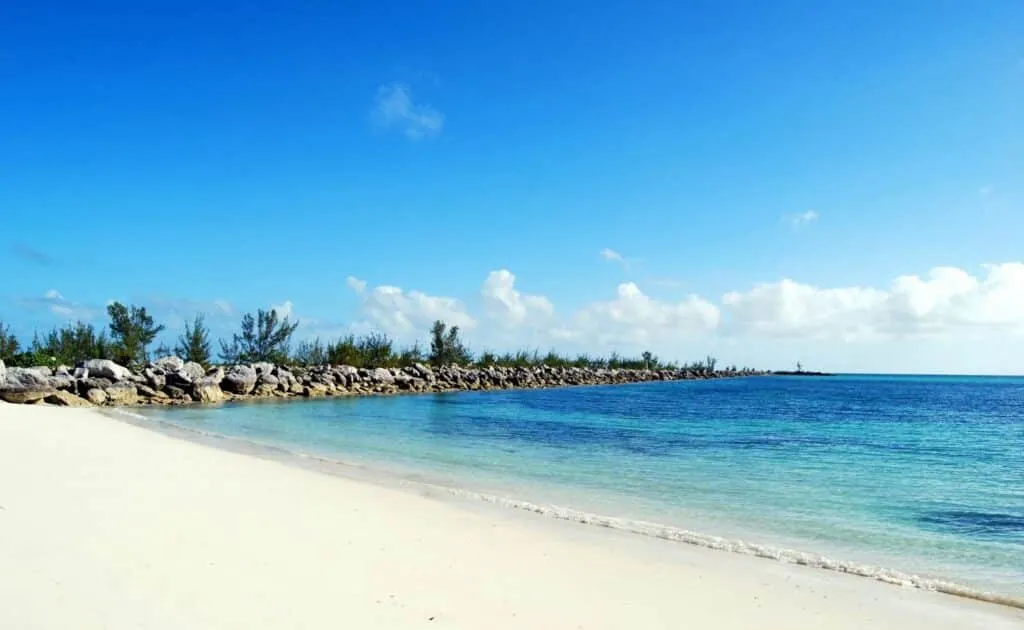 The tots can also splash around safely in the deliciously warm waters while sunbathers can make the most of the sand bar.
The beach sits in between two channels, which makes it a hotspot for activities like kite surfing. The Banana Bay is a great stop for specialty cocktails and a delicious meal.
Long Bay
Located on San Salvador Island, Long Bay Beach is where historical significance and gorgeous natural landscapes come together to give you an iconic global destination.
Long Bay beach, located in the eponymous town, is believed to be the spot where famed navigator and explorer Christopher Columbus first landed in what we know as the "New World". Both the beach and the town take their name from the long boats that carried Columbus and his crew to these shores.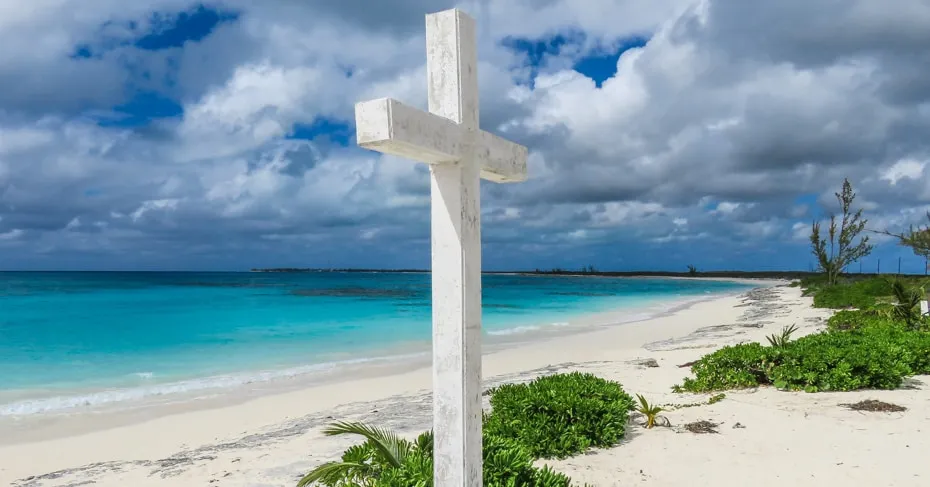 Visitors to Long Bay Beach can enjoy snorkeling in the calm waters and catch underwater views of the spot where Columbus dropped anchor. The shore also features a monument, built by the International Committee, that was used to house the Olympic torch during its 1968 trip from Greece to Mexico for the Summer Olympic Games.
Junkanoo Beach
If you're looking for privacy and seclusion, you won't find it at Junkanoo Beach, but what you will find is a vibrant, electric beach with no dearth of party spots.
Junkanoo's thriving nightlife, present in the beach's many bars, restaurants, and music and dancing venues, is what draws hordes of visitors (especially spring breakers) to it every year. I say nightlife, but the beach is a party hub all through the day, with thumpingly loud music emanating at all times from the establishments.
The beach is conveniently located just ten minutes away from Nassau's bustling city center (Nassau is the Bahamian capital) on New Providence, the island nation's largest, most visited, and most populated island.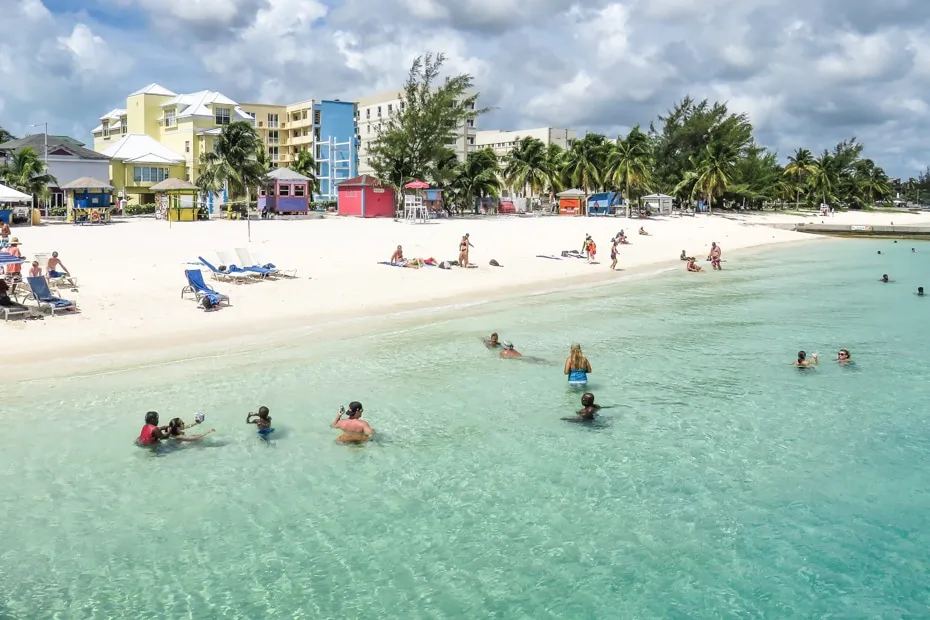 If you're not a party animal, you'll still find tons to do on Junkanoo Beach, from digging into delicious seafood and cocktails at various stellar beachfront dining venues to watching the cruise ships dock and depart from the nearby port to simply making the most of the turquoise waters and white sands sparkling in the tropical sunshine.
Junkanoo is especially crowded between December and January, so you may want to steer clear of the beach during this time to beat the worst of the crowds.
Cabbage Beach
The nation's capital is home to another stunning, iconic, classically Bahamian beach—the Cabbage Beach, spanning nearly the entire length of Paradise Island's northern edge.
While there are a few public access spots, Cabbage Beach is easily and more commonly accessible through the many resorts and hotels that line the island, such as Sunrise Beach Club, Atlantis, and The Ocean Club.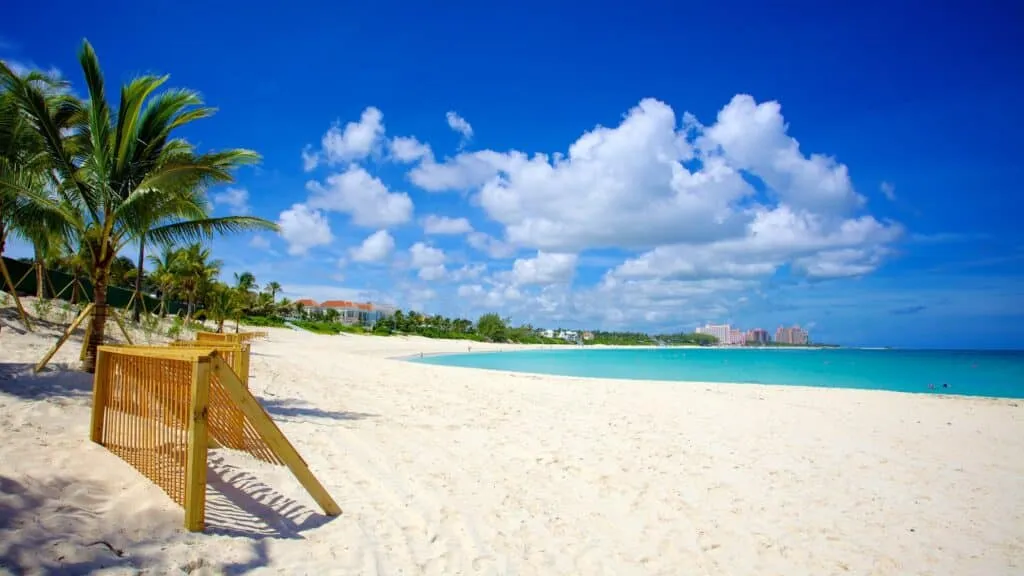 The waters near the Atlantis, especially, are full of watersports opportunities such as parasailing and snorkeling, while the shore is peppered with local vendors selling their wares. The crowds thin as you move further east, near The Ocean Club, so you can pick out your spot on the beach based on this.
Dean's Blue Hole
Located off Long Island's shores in The Central Bahamas, Dean's Blue Hole is the second-deepest blue hole in the world and the humongous record-setting marine cavern system is a stunning sight to behold.
The porous limestone rock which makes up the many islands in the Bahamian archipelago has developed several sinkholes over the years, of which Dean's Blue Hole is one.
The blue hole, which attracts scores of freedivers from around the world every year, is surrounded almost entirely by a natural rock-and-limestone amphitheater on three sides, with a beautiful beach and shallow lagoon covering the fourth side—the graceful crescent that is Dean's Blue Hole Beach, one of the best in The Bahamas.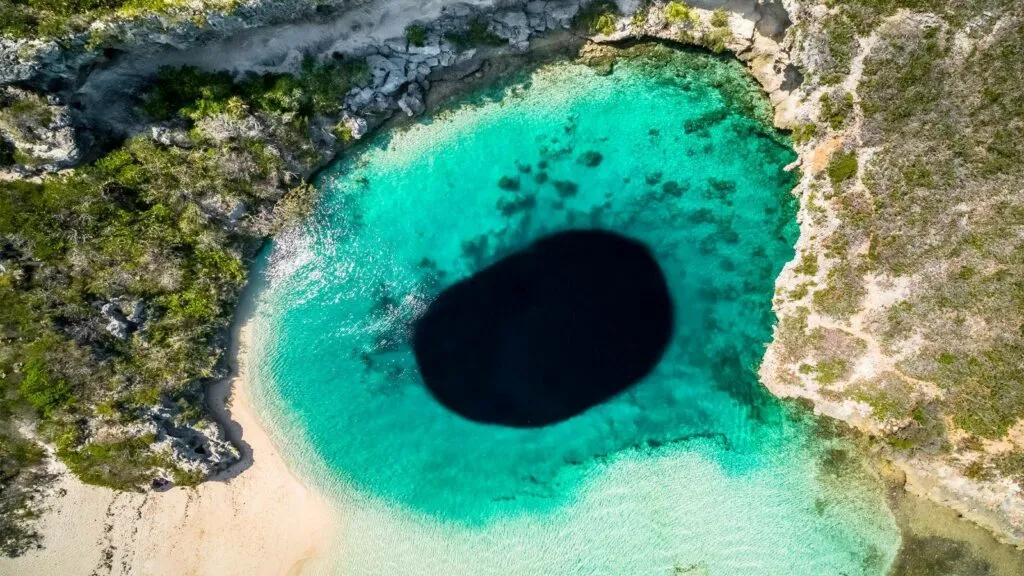 If you're looking for thrills (and have the swimming prowess for it), try sitting on the edge of the blue hole and peering into its depths—or even better, climb to one of the three jump spots on the hole's perimeter and dive in!
Dean's Blue Hole Beach sits to the north of Clarence Town. This is one of those beaches in the country that doesn't offer much in the form of amenities, so make sure that you pack whatever you need before you head here.
A word of caution—unless you're a strong swimmer, stick to the shallow waters in the beach's southern part and stay away from the blue hole's edge.
Cable Beach
One of Nassau's most popular beaches and one of the best beaches in the whole country, Cable Beach is the perfect marriage of fancy resorts, inviting waters, thrilling watersports, delicious dining, and all-around entertainment.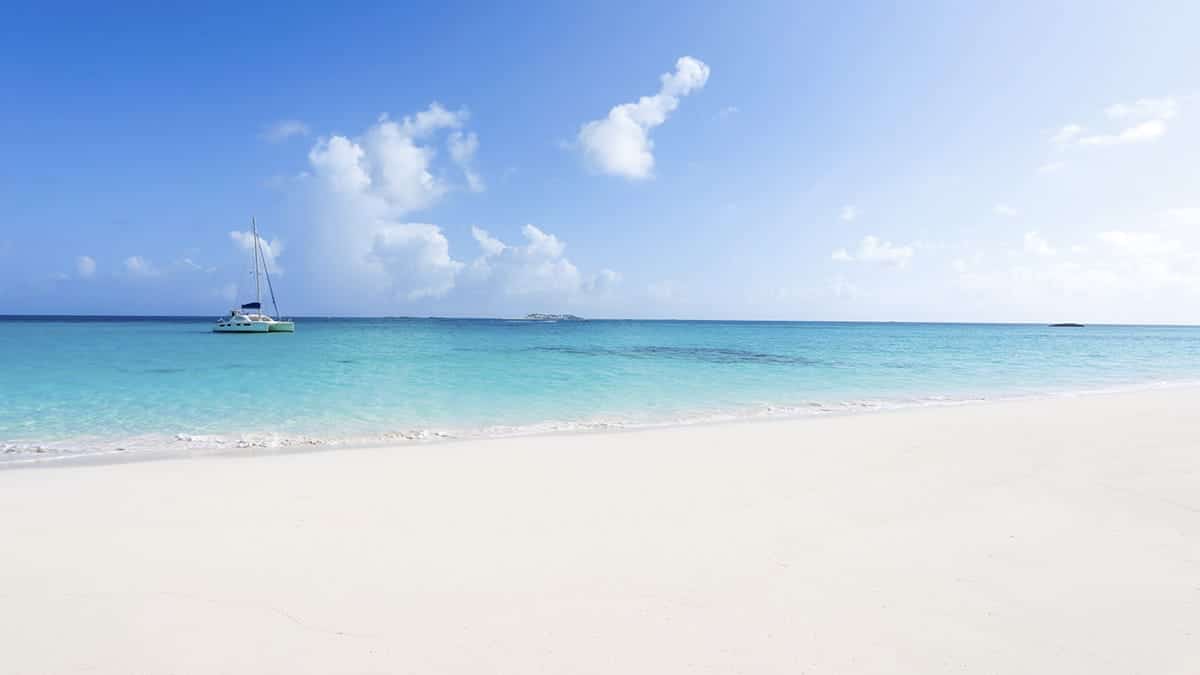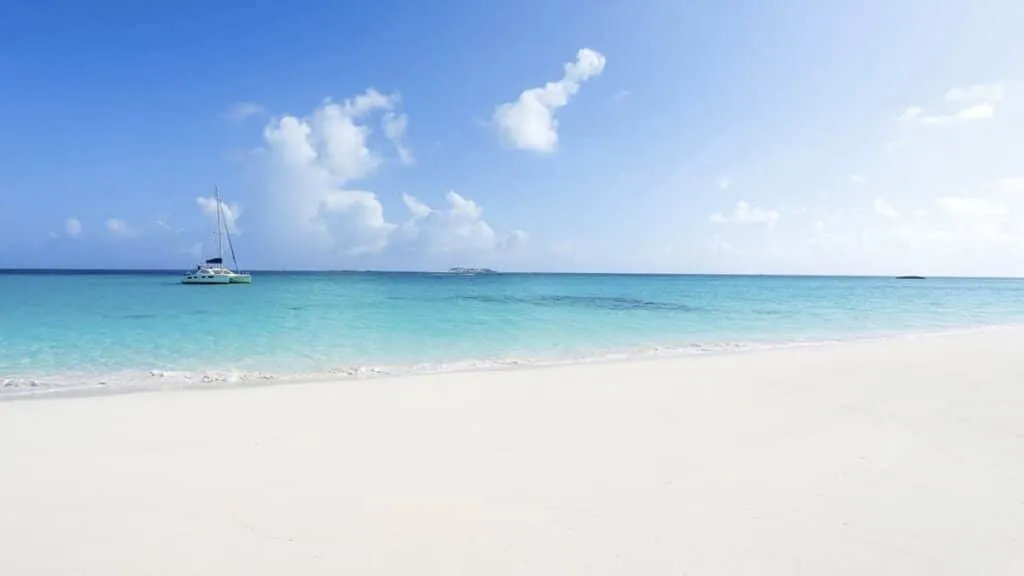 Given how big the beach is, there's no lack of things to do or spots to visit here—between exploring the North Atlantic Ocean on water scooters, soaking in the sun, building sandcastles, surfing, stuffing yourself with the mouthwatering fare on offer, getting tipsy on some of the best cocktails in the area, and enjoying a sunset over the horizon, you pretty much won't notice your day go by.
Staying at the beach's all-inclusive resort will get you easy access to the beach; if not, you just need to drive 13 minutes from Nassau's city center to get here.
Gordon's Beach
Head to Long Island's southern end, and you'll find one of the best Bahamas beaches begging to be explored.
This relatively secluded beach sits far from most resorts, but all complaints will cease when you make the drive along Queen's Highway. The journey is gorgeous, filled with breathtaking views of the natural beauty all around.
Get to the beach itself, and you'll enjoy even better views of the horizon and the lovely waters.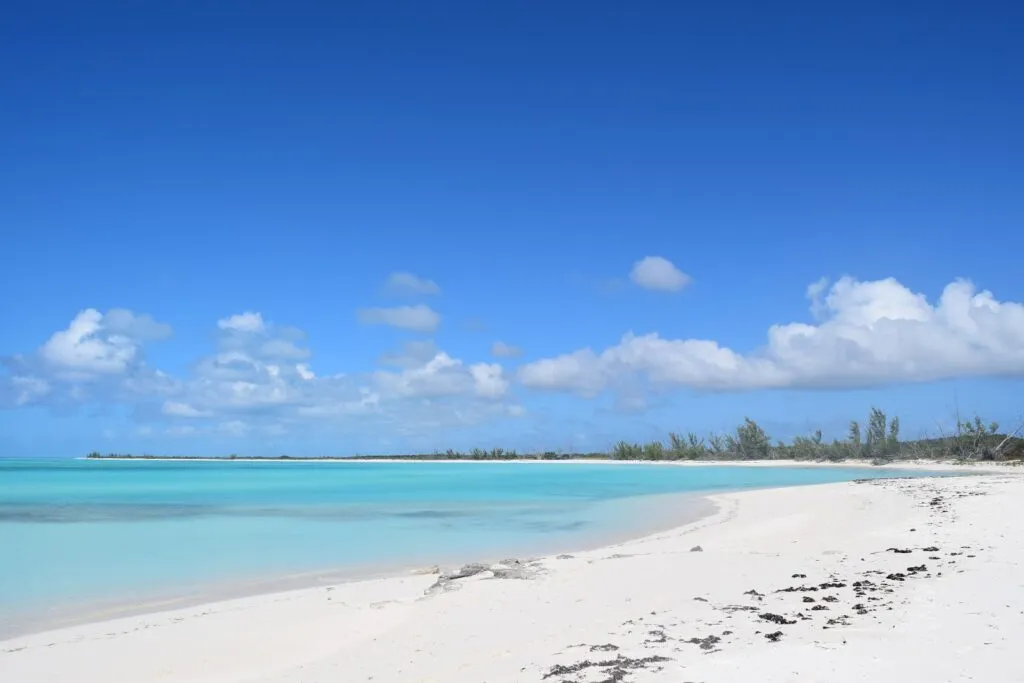 Getting to Gordon's Beach takes a short trek through the area's salt pans—all that remains of a once flourishing salt production industry.
Account for a whole day when you head to Gordon's Beach; from driving down to spending some time at the beach to making the drive back, you're going to need several hours for this one.
Tahiti Beach
Abaco's Tahiti Beach belongs on a postcard—gentle breezes, swaying palms, clear waters, and unblemished sands make up this exotic corner of the South Pacific.
Easily among The Bahamas' top beaches, this tropical slice of heaven features a protected bay partly encircled by a glorious beach, opening out into a protected harbor.
Low tide or high, Tahiti Beach is excellent, but low tide is especially beautiful as it reveals an expansive sandbar that eventually fades into deeper waters.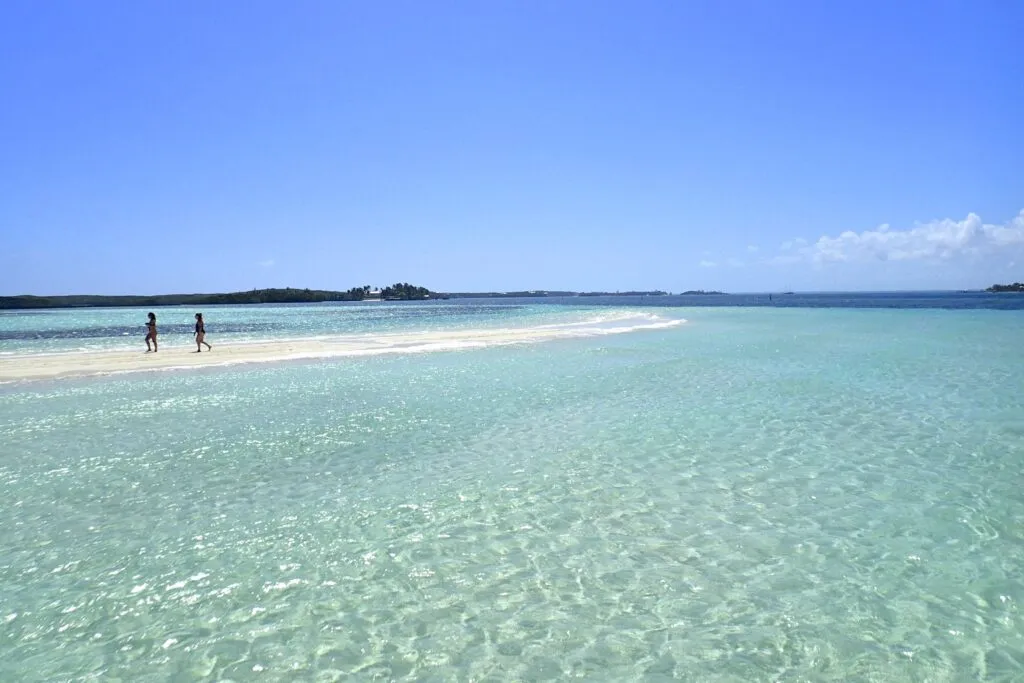 Apart from the highly recommended Thirsty Cuda Bar and Grill (a snack-and-beer-selling barge that anchors off the beach), you won't find beach bars at Tahiti Beach, so if you're particular about your snacks and drinks, carry your own.
Some even think this sums up to Abaco being one of the best places to live in the Bahamas.
Paradise Beach
They probably didn't have to think too much when they named this beach. Flawlessly transparent waters, powder-soft sands, and peace and privacy that many other beaches in the island nation can't offer you—it's paradise, all right!
What makes Paradise Beach stand out, though, is the slew of modern amenities that you'll find here, which may come as a relief to some of the more urban tourists. The 24-acre water park, the Ocean Club with fun activities and fine dining, some of the best shopping in the Bahamas, and gambling your soggy dollars away at the nearby casino—take your pick!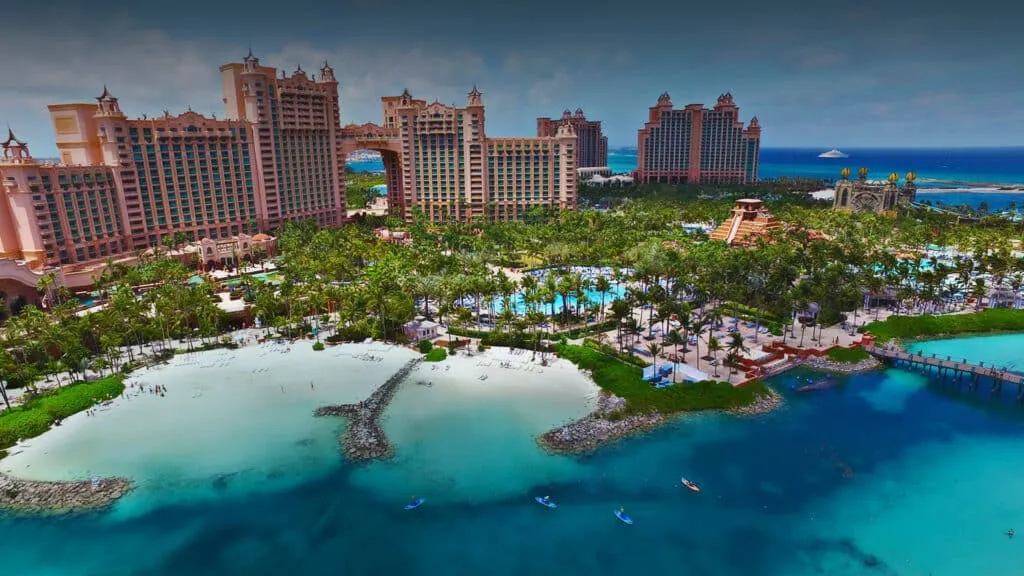 If you're a history lover, don't forget to check out the 12th-century French monastery sitting just ten minutes away from the beach, or climb Fort Fincastle—the latter rewards you with some pretty brilliant views, too.
Paradise Beach sits at Paradise Island's northwestern tip and is quite easy to access.
Love Beach
There's plenty to love about Love Beach, the first and foremost being that it's conveniently located near Nassau's city center, and the second being that it's one of the top Nassau beaches near Cruise Port, with soft sands, clear waters, and views of the low-flying airplanes going in and out of Nassau.
An excellent stop for families, couples, and those on a budget, this public beach is just 18 minutes from the town center and easily accessible by road (you can take a bus or drive down). A favorite haunt of the locals, Love Beach is the perfect place to mingle—the local beach bar is a great spot to forge new bonds over snacks and cocktails.
Taino Beach
Rounding off the list at lucky 14 is Taino Beach, one of the most beautiful and popular public beaches in Freeport, Bahamas. The beach sits a mere five minutes away from central Freeport, making it a very convenient stop for tourists in the area.
A hotspot for watersports, Taino Beach is as perfect as beaches come, with seemingly never-ending stretches of powder-soft sand, perfectly see-through waters, and a variety of watersport offerings that will leave even seasoned adventurers spoilt for choice.
Explore the water by boat, water scooter, or surfboard, take a relaxing, refreshing dip in its welcoming warmth, or simply work on your tan on the pristine sands.
Whatever you're looking for in a beach vacay, Taino Beach is where you'll find it.
It is worth noting however, that Taino Beach has had trouble with water standards. Though drinking water in the Bahamas is generally safe, it's important to be more mindful than ever while at this location after recent heavy rainfall.
The Bottom Line
The beaches mentioned above are great for a tiny taste of all the different kinds of beach entertainment that you can find in this stunning island nation. Some other excellent options include Treasure Cay Beach, French Leave Beach, Stocking Island Beaches, and Shelling Beach.
There are probably as many beaches in The Bahamas (each one stunning, no less) as there are people in The Bahamas—I wouldn't be surprised if the former even outnumbered the latter.
When this is the case, picking out the best beaches is close to a death wish! My solution?
Forget about picking out the best and simply enjoy every beach you chance upon (gets very easy when you decide to buy real estate in the Bahamas and get your residence permit!).
Endless beach days, for the win.