Whether you're looking to level up your beach wardrobe or want to pick up souvenirs to remind you of your gorgeous Caribbean vacation, The Bahamas has it all.
From eye-catching handicrafts to sexy sarongs to bottles of rum that make you wince (but in the best way possible—know what I mean?) to even duty-free products, there's a lot you can stock up on in The Bahamas' shopping venues.
If you're looking for the best deals and goods, here's a list of shops, galleries, markets, and boutiques that you must hit up for the best shopping in The Bahamas!
The Best Shopping Venues in The Bahamas
Most popular Bahamian duty-free shops, traditional markets, and designer boutiques are centered in Nassau's bustling downtown area. However, if you look hard enough, you'll find that there are plenty of other gems, in this treasure chest of a nation, that are just waiting to be discovered.
PS—take your biggest shopping bag and all your haggling skills when you head to some of these spots!
Nassau Straw Market
Straw weaving is an integral part of Bahamian culture, so what better souvenir than one among the millions of beautifully woven straw treasures and souvenirs at the Nassau Straw Market?
Initially used to make functional items such as baskets and fish traps, the practice of straw weaving is now firmly woven into the cultural fabric of the island nation, as the friendly local vendors at this shopping highlight will tell you.
Over 500 vendors display their wares (which also include T-shirts and goods from Abibas, Chamel, and Guccy—no, I didn't misspell that!) over two floors of the modern, concrete structure that is the Straw Market, with live entertainment for the window shoppers.
The market conveniently sits just a block away from Nassau's cruise ship port and is always teeming with tourists. Understandably—shopping in Nassau, Bahamas, is incomplete without a stop at the Straw Market.
Port Lucaya Marketplace
If you're looking for the perfect mix of entertainment, gorgeous dining spots, and shopping, all with the beautiful Caribbean sun shining down on you, head to the Port Lucaya Marketplace.
Among the biggest shopping destinations in The Bahamas, this open-air complex, located in Freeport, sells everything from jewelry to perfumes to souvenirs to designer bags.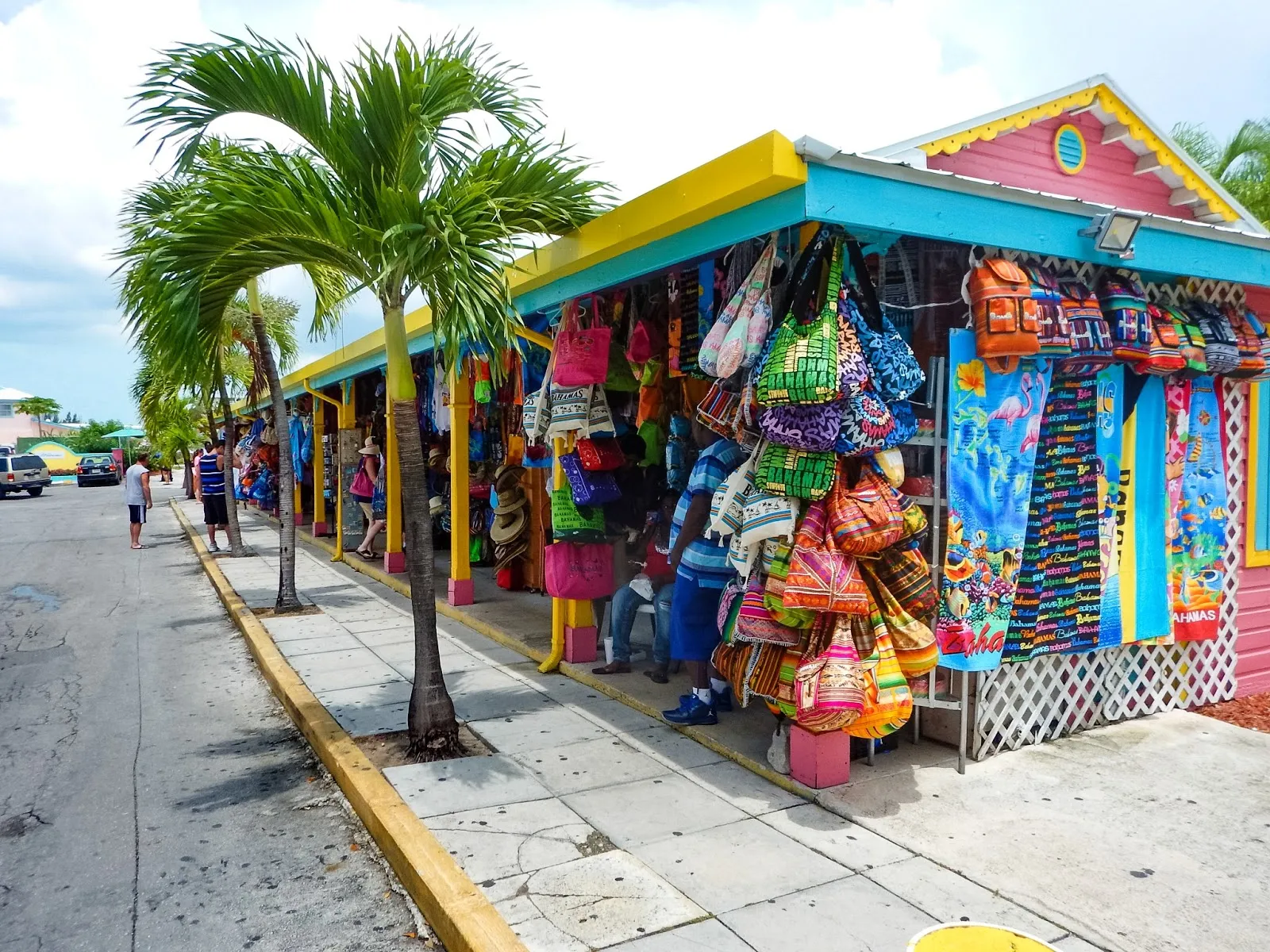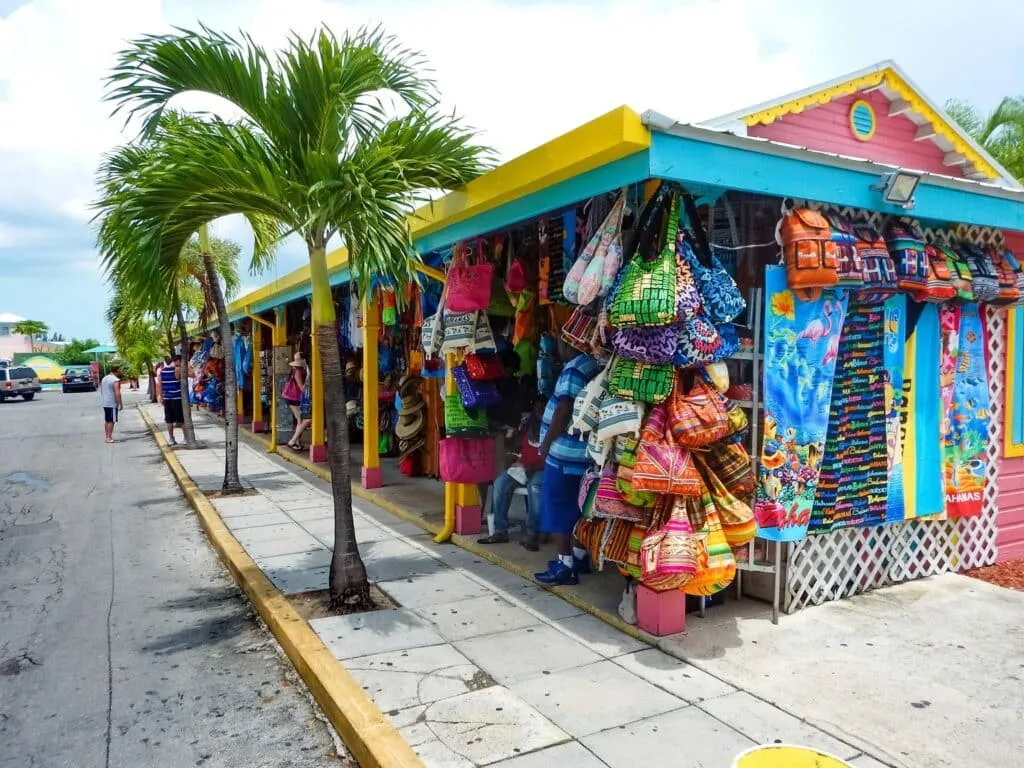 Losing track of time in The Bahamas isn't very hard, but it's even easier at the Port Lucaya Marketplace—the complex houses over 120 straw and handicrafts stores and 40 duty-free outlets and boutiques. As if that wasn't enough, Port Lucaya Marketplace turns into a hub of live Bahamian music in the evening.
If you need to refuel at any point, take your pick from the seven bars and eleven restaurants that offer everything from refreshing mojitos to mouthwatering preparations of fresh catches of the day.
Coin of the Realm
On a quiet street in the otherwise bustling Charlotte, tucked into a corner, sits a quaint boutique that you may walk by if you didn't have a list, like ours, telling you that this unassuming, typically Bahamian limestone building houses one of the best shopping spots in The Bahamas.
A family-run store that's been in the business for over 40 years, Coin of the Realm sells some of the most gorgeous jewelry that you will ever lay your eyes on, especially conch pearl jewelry. These are made with the pearls that the local fishermen are lucky enough to find (conch pearls occur only in one out of every 10,000 conches).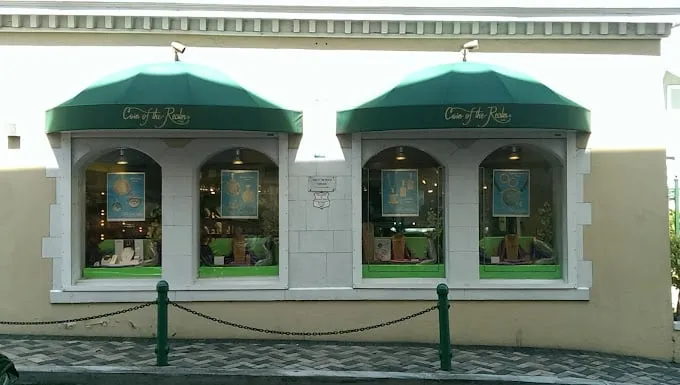 What the boutique specializes in, though, are rings, pendants, and statement jewelry made from ancient Spanish and Greek coins.
Overall, if you're looking for a "special something" for yourself or a loved one back home, you'll probably find it at Coin of the Realm.
Bay Street
One of Nassau's—nay, The Bahamas'—most popular shopping destinations, Bay Street, sitting on the oldest thoroughfare in the country, has both tourists and locals flocking to it for its world-class shopping opportunities.
A perennially busy spot, Bay Street is "the" destination for bags, jewelry, and cheap-but-unique perfumes. Whether you're looking for high-end designer wear or inexpensive but perfectly copied knockoffs, you'll find it in this dynamic mix of luxury and local boutiques, authentic Bahamian handicrafts stores, quaint bookstores, jewelry stores (try Little Switzerland—you can thank me later), and duty-free outlets.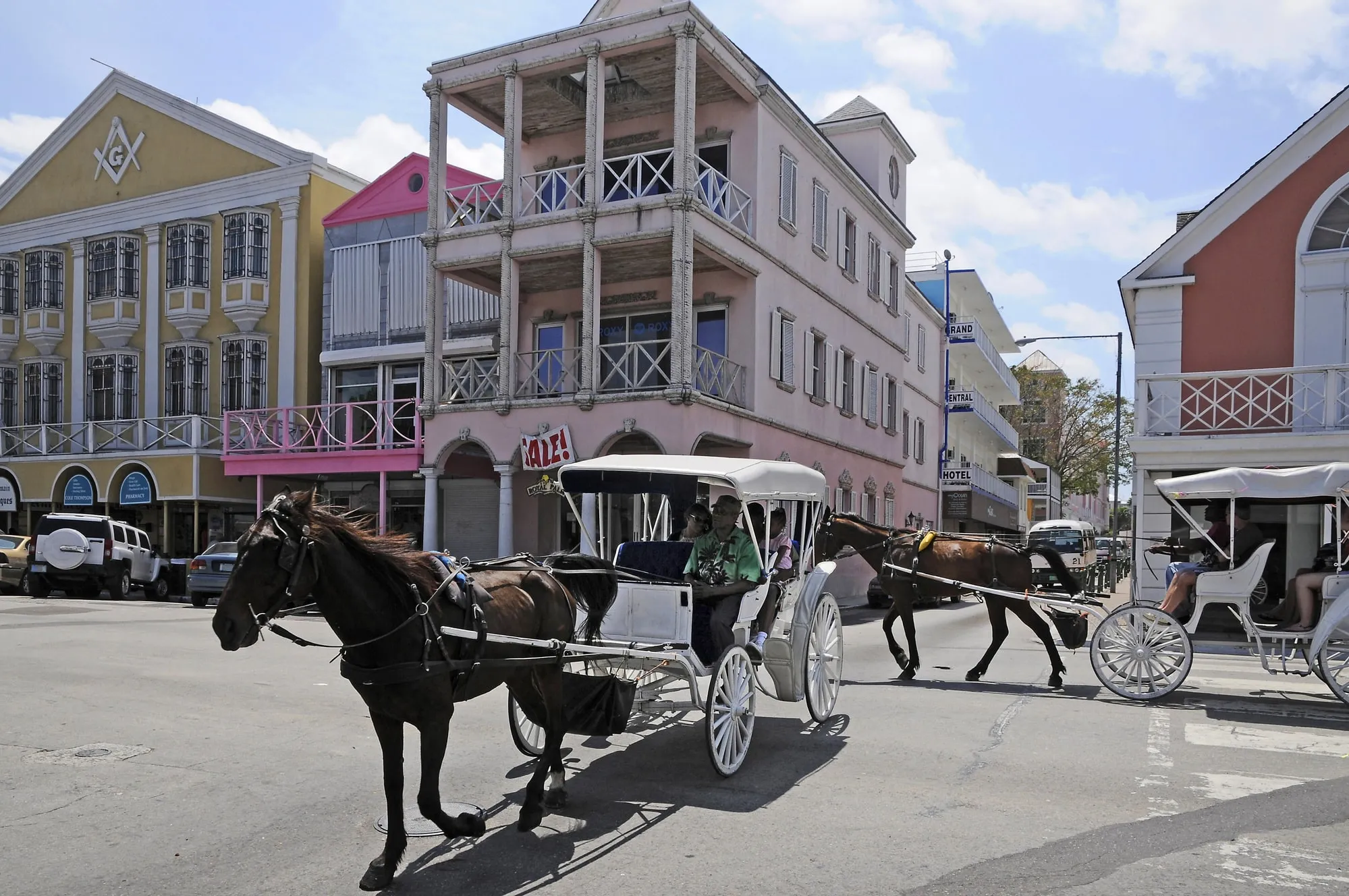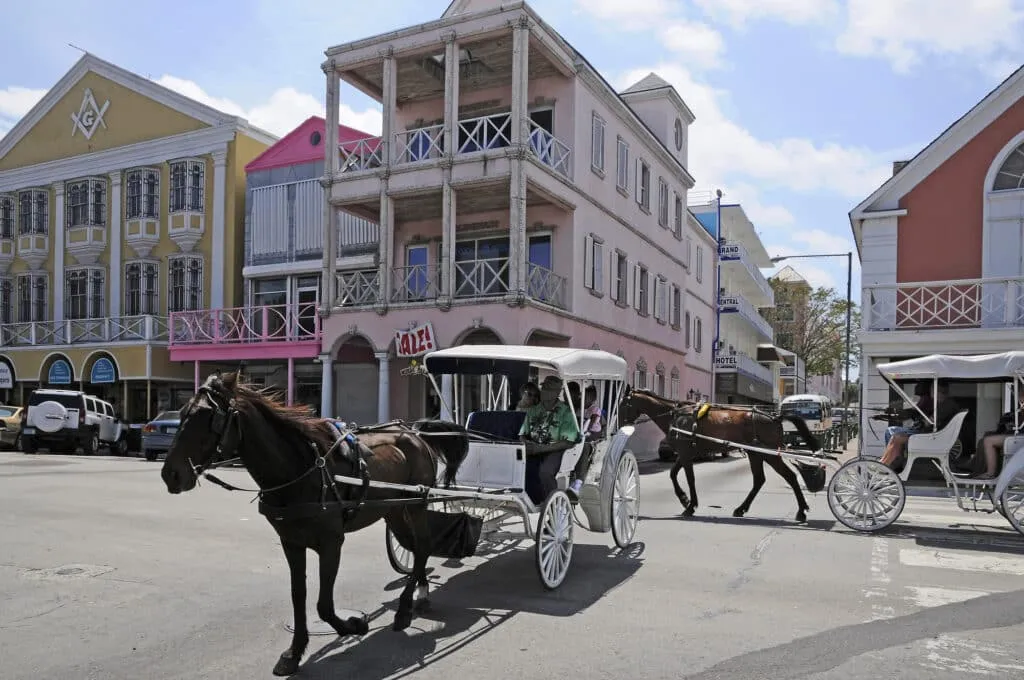 But that's not all that's on offer here—Bay Street is teeming with excellent restaurants, bars, and cafes, so it's just as much a hub for delicious local cuisine as it is for shopping. Bay Street can also be quite romantic, with a horse-drawn carriage tour of downtown Nassau on offer.
Graycliff Shops
You'll find only two things at the Graycliff Shops—chocolate and cigars. Even so, you'll find that these shops are always busy because they offer more than just products—they offer experiences.
The Graycliff Shops are located in the historic Graycliff Hotel which sits just a few blocks away from Prince George Wharf. The shops consist of a chocolate factory and a cigar company.
The Graycliff Chocolatier
At the Graycliff Chocolatier, guests can reward their tastebuds with gourmet chocolates or reward their lives by learning how to make these gourmet chocolates, under the master chocolatier's watchful eye and expert guidance. The session is a part of the factory tour, where you'll also learn how the humble raw cocoa bean turns into Graycliff's luxurious product.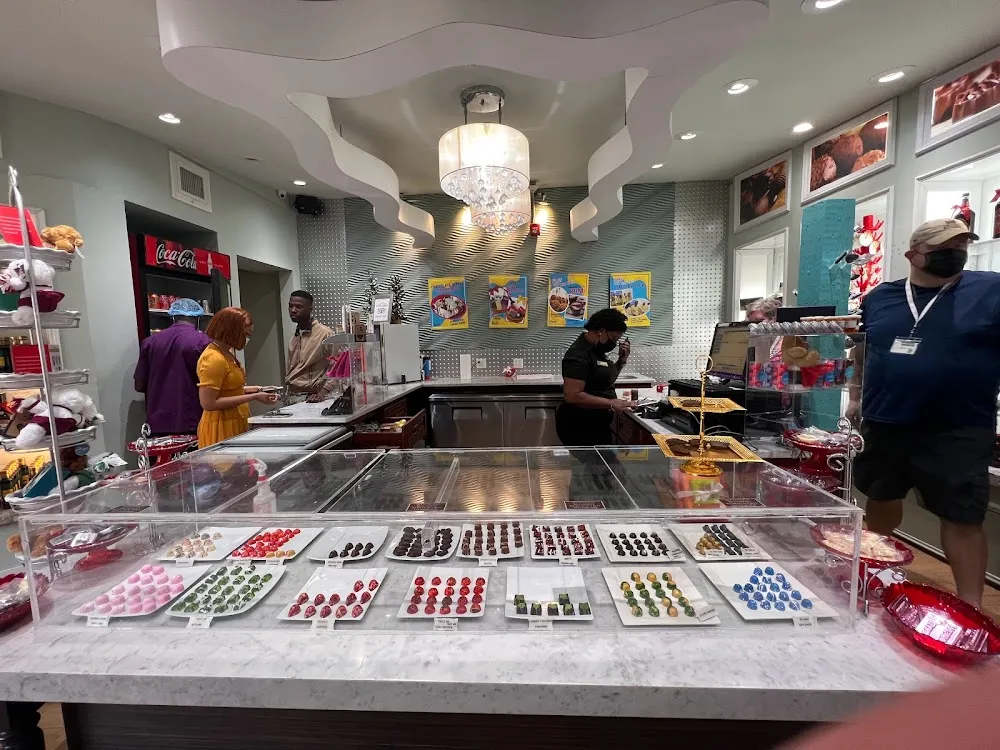 You also get to mold your own chocolate bars, but if you'd much rather be the one eating than making, you can make a beeline to the store and pick up your heart's fill of delicious chocolates, bonbons, and chocolate tea in multiple flavors, including the signature tobacco chocolate (give this a chance—it tastes much better than it sounds!).
The factory also offers spirits and chocolates tasting sessions where you'll learn which spirit goes best with different chocolate varieties.
The Graycliff Cigar Company
Even if you think that cigars are best left to the Tony Sopranos of the world, this award-winning boutique cigar company, sitting right next door to the chocolate factory, is worth a visit for the up-close look it offers at hand-rolled cigars.
Only a select blend of tobacco goes into this company's cigars, which include Cabinet Selection, Bahiba, and Graycliff. 16 skilled boncheros or bunchers are behind the Graycliff Cigar Company's world-renowned cigars—as a part of the tour, you can marvel at the artists and the art, and even learn how to roll a cigar, while you're at it.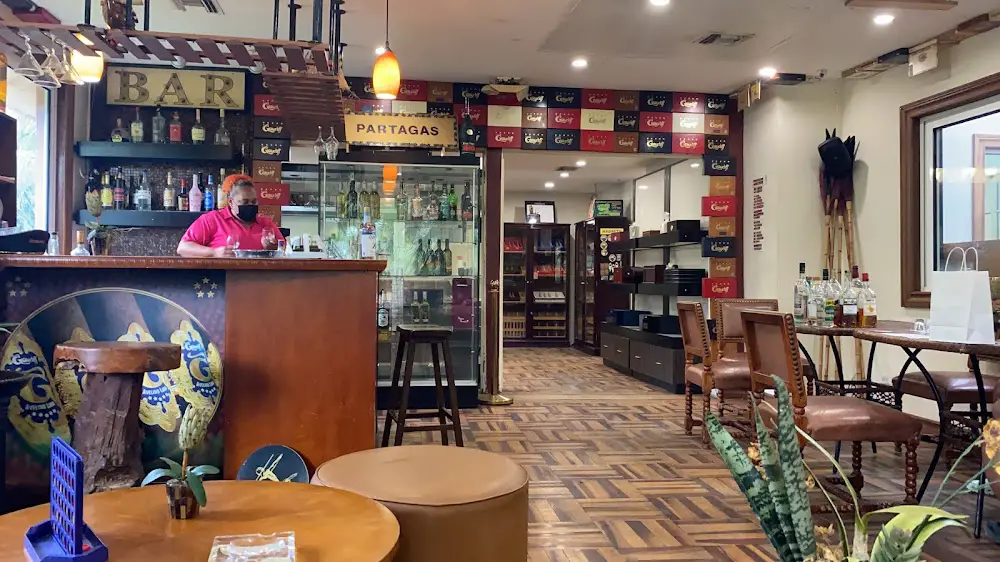 End the tour with a rum-tasting session, sampling some of the Caribbean's best offerings—paired with a premier Graycliff cigar, of course!
Marina Village at Atlantis
This lively outdoor dining and shopping complex sits on Paradise Island's lavish Atlantis Resort, with colorful architecture, gorgeous marina views, swaying palms, and live music on offer—the essence of a traditional Caribbean open-air marketplace.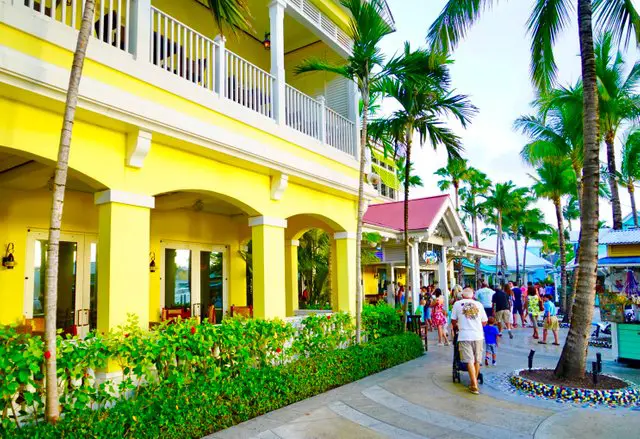 The complex houses several high-end designer and local boutiques in its 34 stores, the likes of Colombian Emeralds International, Carl Milano, and Leather Gallery mingling with charming local art galleries and kiosks.
The Plait Lady is one of the complex's most popular boutiques, with tourists often stopping here to pick up handwoven handbags, placemats, hats, totes, and a plethora of unique, high-quality straw-work treasures, especially those who want to avoid the thronging crowds of the Nassau Straw Market.
You'll also find excellent local food and drinks on offer at Cafe Martinique, MacKenzie's, Seafire Steakhouse, and Pirate Republic Brewing Co.
Festival Place
The name isn't an exaggeration—with a brightly colored building, happy locals, live music and dance, and "good vibes only" at any time of the day, Festival Place is a celebration of all things Bahamian.
Sitting near Prince George Dock, close to the post office and the main tourism office, this shopping center houses over 45 stalls, most of them belonging to local artists and vendors selling edible goods, gifts, and local crafts. Finding something unique here won't be much of an issue.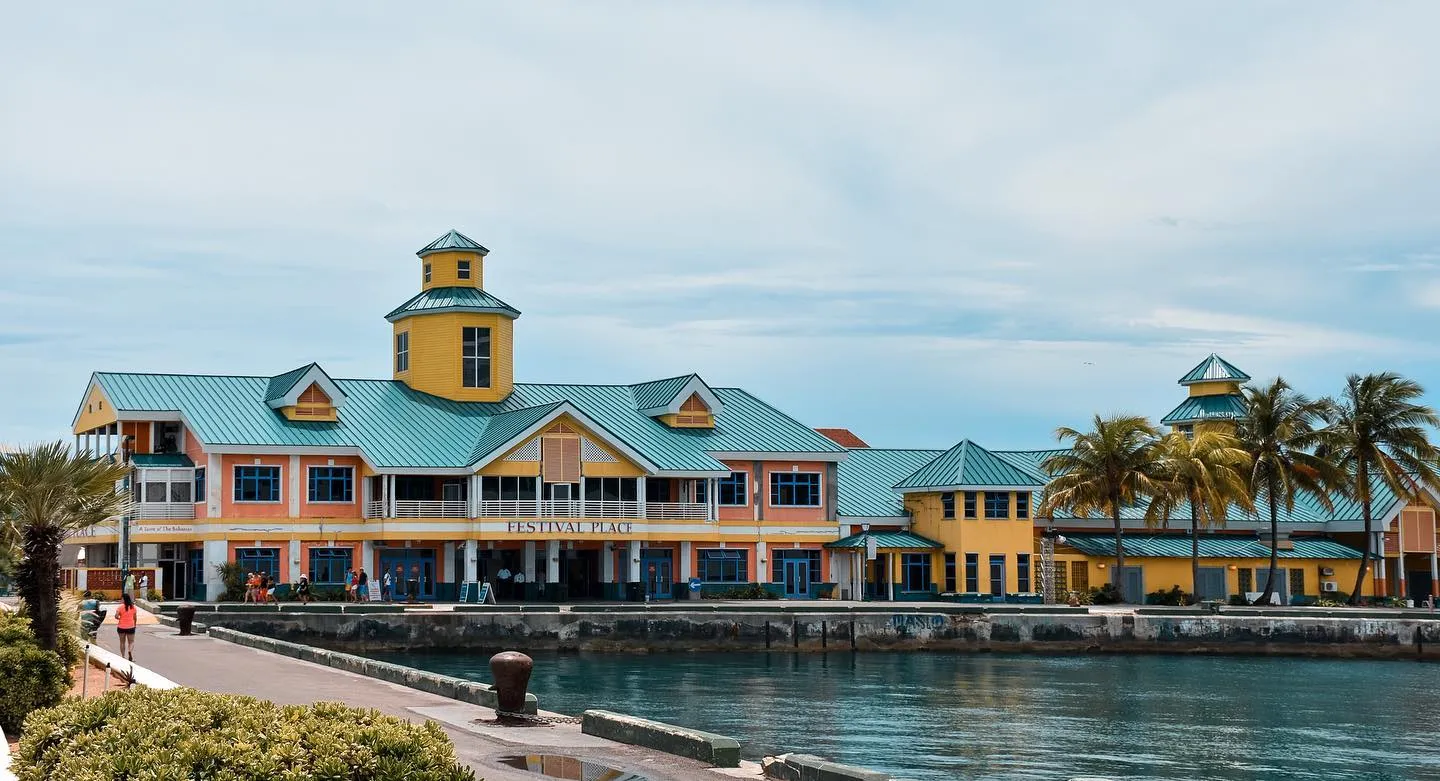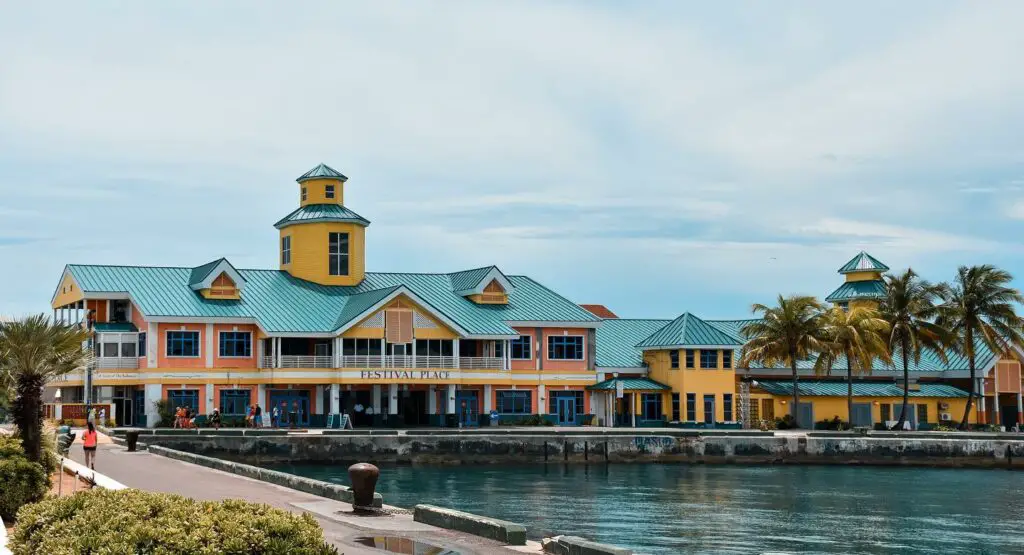 Doongalik Studios Art Gallery
This laidback gallery is an excellent shopping destination for art lovers—not just for the lovely artwork display from local artists and the beautiful handicrafts sold at the next-door Craft Cottage, but also for the gorgeous restored historic home that the gallery is housed in.
Doongalik was founded by the master artist Jackson Burnside, renowned for his Junkanoo art, to promote Bahamian heritage, culture, and art.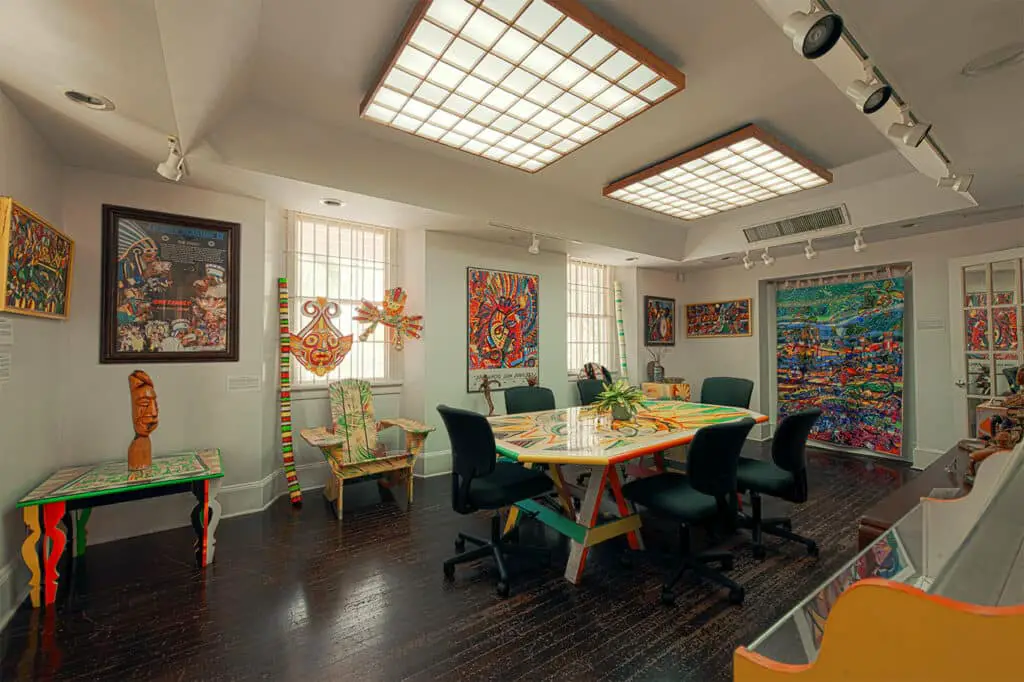 As mentioned earlier, the Craft Cottage is just next door—this vibrant cottage sells a variety of beautiful products made by local artisans, ranging from exquisite paintings to goatskin drums to home decor to eclectic jewelry to straw bags to sculptures to scarves to handpainted glassware.
Their coral- and shell-adorned decorative items are the highlight at the Craft Cottage.
Androsia Batik
The family-run Androsia Handmade Batik Factory sits on Andros Beach, where it has sat since the late 1960s. This boutique-cum-factory is a great spot for jewelry, batik print clothes, handicrafts, and fabric by the yard at excellent prices.
The prints are inspired by The Bahamas' natural beauty, which makes them even more special and has earned Androsia the status of being an iconic part of the beach. Visitors to the factory can watch the artisans skillfully create designs with wax on fabric, and then dye them, through self-guided tours, and if it interests them, also take batik lessons.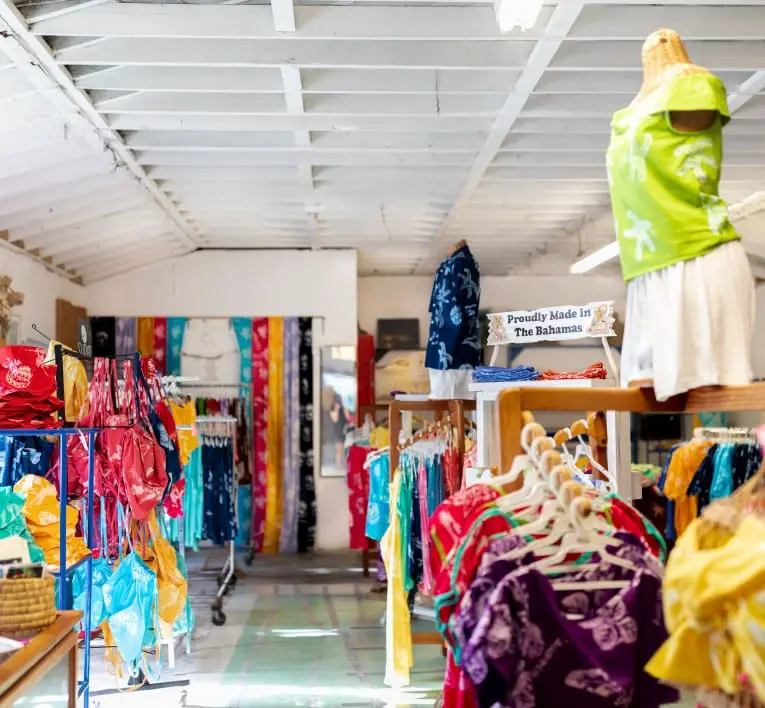 Crystal Court Shops
If you're a fan of big brands and are looking for luxurious shopping in The Bahamas, head to Crystal Court Shops. From fancy branded shoes to bags to jewelry to watches to apparel, brand lovers will find more than enough here, from names such as Cartier, Bulgari, Lalique, Versace, Salvatore Ferragamo, and Gucci, among others, to leave them spoilt for choice here.
And the best part? They're all duty-free.
The mall is located on Paradise Island's Atlantis Resort and is also a hotspot for children's clothing, toys, and beachwear. When the hunger pangs hit, you'll find plenty of cafes serving both international and local fare to gorge on.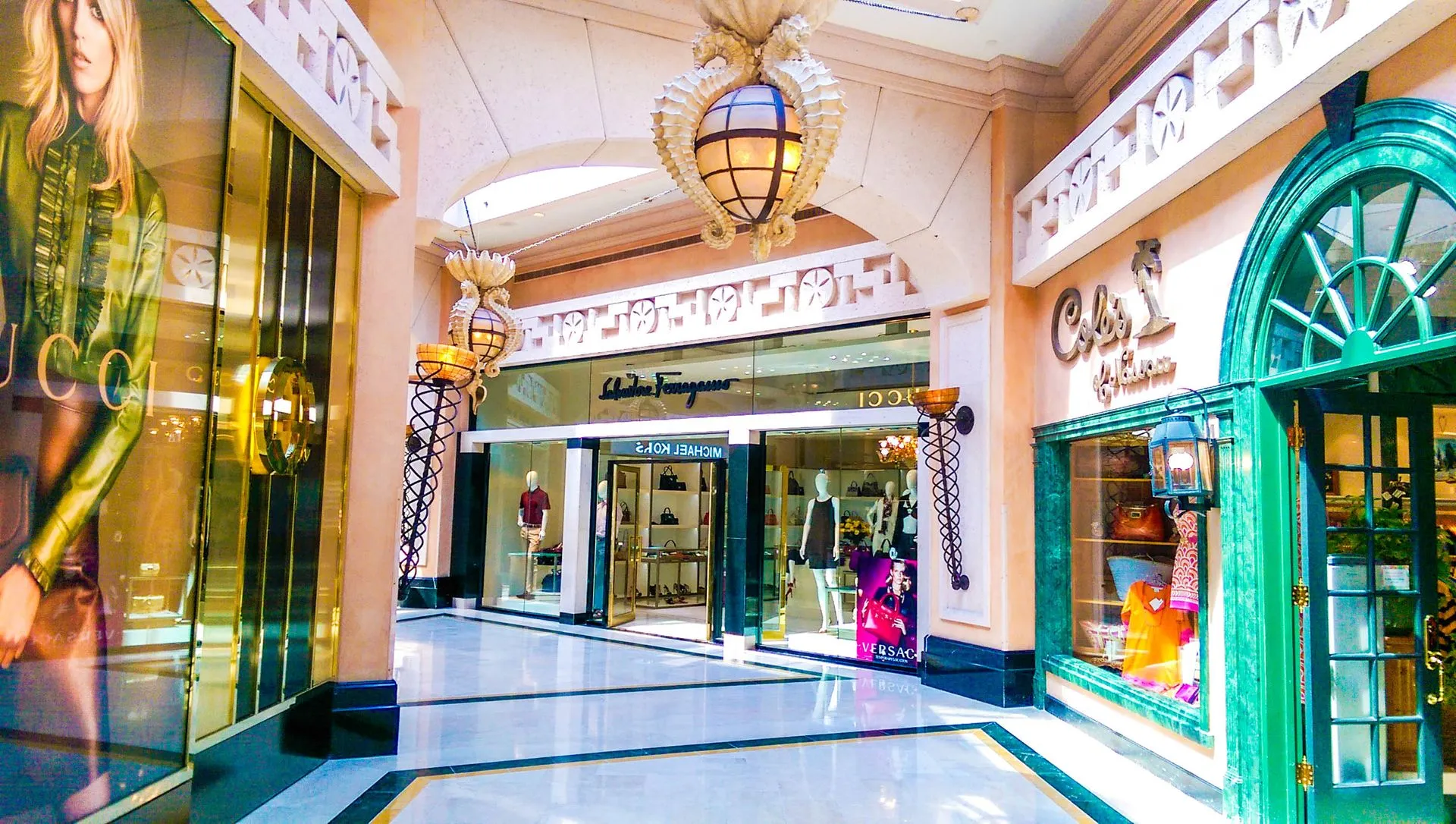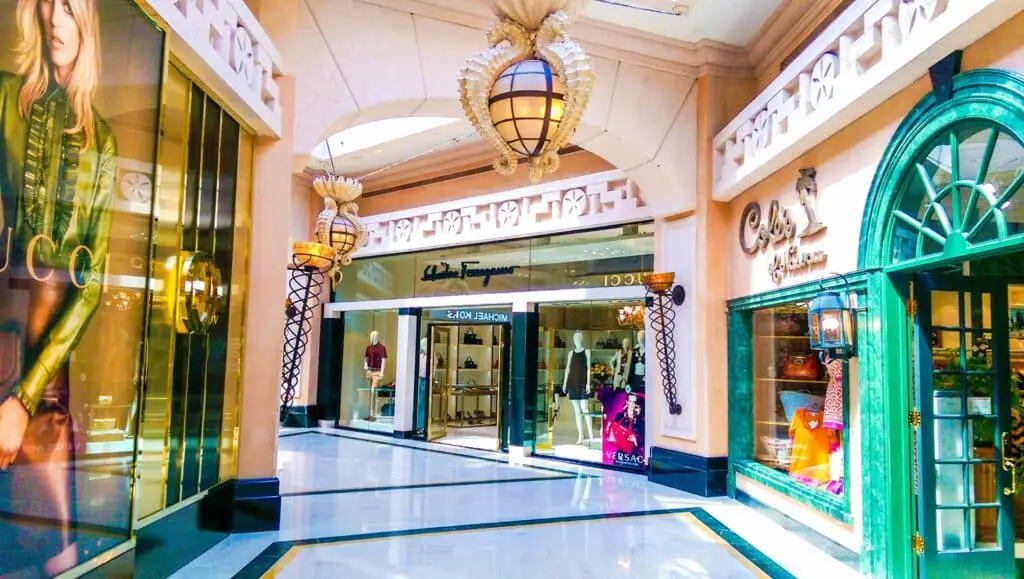 The Final Word
The Bahamas is a beautiful destination and it's only natural to want to carry a slice of this heaven back home (unless you want to drop everything and become a resident of the Bahamas—which I totally get!). With the shopping venues mentioned above, doing so has never been easier!
Some other noteworthy shopping destinations include the historic John Watling's Distillery for some excellent Caribbean rum, Bahama Hand Prints for fabrics and bags, and Johnston's Bronze Art Foundry for bronze sculptures made using a 5,000-year-old technique of wax casting that's nearly lost to the world.
In many of these shopping spots, haggling is called for, but remember to always be respectful when doing so. Inflated prices notwithstanding, many sellers are local artists and vendors making a living.
So, while taking along your biggest shopping bag and your best haggling skills, don't forget to take along respect. Have fun!
Feature Image: At Straw Market in Nassau, Bahamas by faungg